Nowa aplikacja mobilna Poczty Kwiatowej umożliwia ekspresowe zamówienie kwiatów o dowolnej porze dnia i nocy, wystarczy tylko sięgnąć po swojego smartfona. Sprawdź co w niej znajdziesz i jak z niej korzystać.
Kwiaciarnia w aplikacji mobilnej
Aplikacja mobilna Poczty Kwiatowej pozwala na zalogowanie się do konta założonego w serwisie internetowym, dzięki czemu kolejne rangi zdobyte w programie lojalnościowym przenoszą się między urządzeniami. Dodatkowo, aplikacja została wyposażona w zakładkę, która zawiera informacje o aktualnych promocjach i okazjach - wszystkie rabaty są zebrane w jednym miejscu. Aplikacja mobilna Poczty Kwiatowej to nie tylko narzędzie do zamawiania kwiatów online, bowiem pełni też funkcję terminarza - w zakładce "okazje" można zapisywać ważne daty takie jak urodziny, imieniny i rocznice. Kiedy te nadejdą, aplikacja wyśle przypomnienie i przeniesie użytkownika do ekranu zamawiania kwiatów - dzięki temu już nigdy nie zapomnisz o ważnej dacie.
Jak poruszać się w aplikacji Poczty Kwiatowej?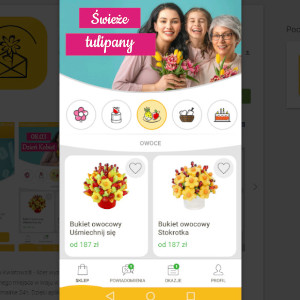 Dzięki prostemu interfejsowi poruszanie się w aplikacji mobilnej Poczty Kwiatowej jest bardzo intuicyjne - najważniejsze opcje i zakładki są dobrze widoczne, dzięki czemu proces zamawiania kwiatów przebiega naprawdę szybko i sprawnie. Na dole ekranu widoczny jest pasek menu odsyłający do widoku sklepu, powiadomień, okazji lub profilu - aby przejść do którejś z zakładek, należy kliknąć w jej obrębie. Poza standardowymi rozwiązaniami, znanymi już ze strony internetowej, w aplikacji wprowadzono też kilka ulepszeń, na przykład możliwość dodawania produktów do ulubionych, aby to zrobić wystarczy kliknąć na ikonkę serduszka.
Zamawianie kwiatów online
Proces kupowania kwiatów za pośrednictwem tradycyjnej kwiaciarni internetowej i przy pomocy aplikacji jest bardzo podobny. Aby zamówić bukiet przez aplikację mobilną Poczty Kwiatowej należy zalogować się do swojego konta lub je założyć. Kolejnym krokiem jest wybranie odpowiedniej kompozycji - można je przeglądać w zakładce "sklep". Oczywiście w kwiaciarni w aplikacji mobilnej, tak samo jak na stronie internetowej, dostępne są również inne upominki: bukiety owocowe, kosze smakołyków, flower boxy, a nawet torty!
Dzięki aplikacji mobilnej Poczta Kwiatowa® wyślij kwiaty online z usług internetowej kwiaciarni można skorzystać w każdej sytuacji: jadąc autobusem, stojąc w kolejce albo będąc w kawiarni. Zamawianie kwiatów online jest teraz jeszcze prostsze.
Google: https://play.google.com/store/apps/details?id=com.pocztakwiatowa.clients
Apple: https://itunes.apple.com/us/app/poczta-kwiatowa/id1451862777