Jesienią wydawać by się mogło, że o tej porze bukiety będą uboższe, ale paradoksalnie również o tej porze roku da się tworzyć zachwycające kompozycje. Oto kilka elementów, które są najczęściej wykorzystywane w sezonowych bukietach od września do listopada.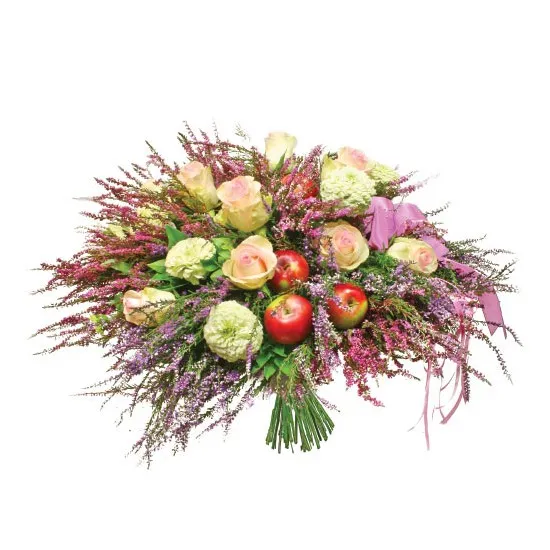 Na pierwszy plan wysuwają się niewątpliwie wrzosy. Zaczynają kwitnąć już w sierpniu, ale tradycyjnie najwięcej kupuje się ich we wrześniu. Pierwszy miesiąc jesieni właśnie im zawdzięcza swoją polską nazwę! Drobne kwiaty w różnych odcieniach fioletu i różu z daleka prezentują się skromnie, ale wystarczy spojrzeń na nie z bliska, żeby docenić drobne płatki układające się w kunsztowny kształt kieliszków. Postawione w wazonie nadadzą się idealnie do każdego eleganckiego wnętrza.
Krzewy również mogą dostarczyć ciekawych materiałów na bukiet. Jarząb pospolity przez większą część roku nie wyróżnia się niczym szczególnym, kiedy jednak zbliża się wrzesień, zaczyna przyciągać spojrzenia spacerowiczów. Wszystko to za sprawą pojawienia się charakterystycznych, czerwonych owoców, czyli jarzębiny. Jej intensywny kolor sprawia, że od lat nie tylko zastępuje koraliki w naszyjnikach, ale także służy jako popularna dekoracja bukietów.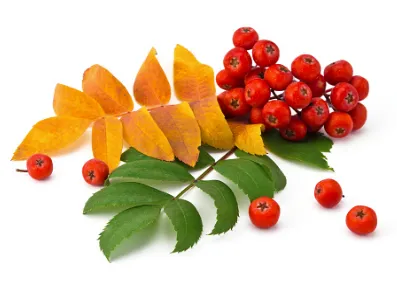 Wrzos i jarzębina to pierwsze znaki nadchodzącej jesieni, ale tuż po nich pojawiają się kolejne. O zmianie pory roku przypominają sobie drzewa i stopniowo się przeobrażają. W krajobrazie polskich lasów i parków miejsce zieleni zajmuje złoto, pomarańcz, czerwień i brąz. Te kolory to chyba najbardziej charakterystyczny jesienny symbol. W większości bukietów przez cały rok pojawiają się liście, a fakt, że teraz mienią się najrozmaitszymi barwami sprawia, że całość prezentuje się jeszcze ciekawiej.
Do liściastych kompozycji doskonale pasują naturalne dodatki w ciepłej, stonowanej kolorystyce. Wiele z nich niemal każdemu kojarzy się z jesienną porą. Mogą to być kasztany lub żołędzie, które we wrześniu i październiku spadają z drzew, albo znalezione w leśnej ściółce szyszki. Ciekawym pomysłem może być również użycie owoców, na przykład dojrzałych jabłek, gruszek lub żurawiny.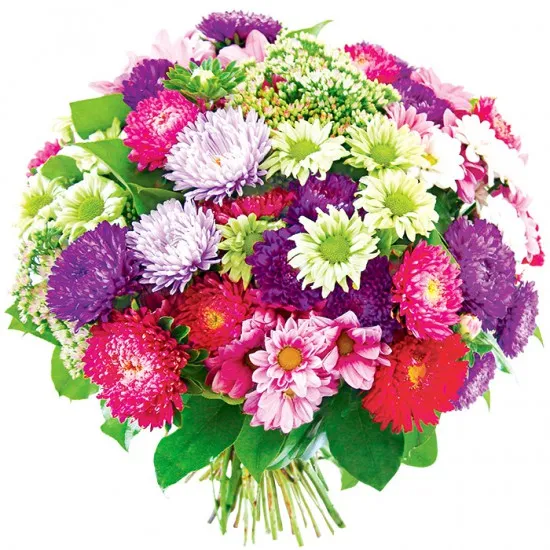 Jeżeli komuś wydaje się, że wiązanka z tych pięknych darów lasu i sadu nie jest wystarczająco efektowna, można sięgnąć także po bardziej konwencjonalne rozwiązanie, czyli oczywiście kwiaty. Tych, wbrew pozorom, wcale o tej porze roku nie brakuje! Mowa nie tylko o gatunkach hodowanych w sztucznych warunkach, ale również o tych, które zakwitają w polskich ogrodach. Są to astry, chryzantemy, dalie, cynie, begonie i wiele, wiele innych. Nie można odmówić im ani pięknego wyglądu, ani zapachu.
Rośliny pokazują, że pora roku się zmieniła. Zrobienie z nich florystycznych kompozycji i bukietów, na przykład z wrzosów w różnych odcieniach lub kwiatów otoczonych jesiennymi liśćmi, to doskonały pomysł na wprowadzenie jesiennej atmosfery do swojego domu lub piękny prezent dla kogoś bliskiego.