Jesień kojarzy się z ciepłymi barwami złotych liści oraz chłodnym fioletem wrzosów. Jednak nie tylko te drobne leśne kwiaty są w Polsce symbolem tej pory roku. Astry to rośliny, które zasługują na to, by lepiej je poznać.
Wiele gatunków
Na początku należy wyjaśnić, czym właściwie są astry. Nie jest to jeden gatunek, a cały rodzaj roślin, do którego rodziny należy około 250 gatunków. W Polsce występuje 10 typów, a najbardziej popularne są astry nowoangielskie, nowobelgijskie oraz krzaczaste. Te kwiaty przypominają dziecięce rysunki - żółty środek z kolorowymi płatkami. Występują one w wielu wariantach kolorystycznych - od różowych, przez czerwone, fioletowe i białe, aż po niebieskie. Aster krzaczasty jest wyjątkowo atrakcyjny dla owadów, ze względu na bogactwo pyłku i nektaru. Aster nowoangielski nie nadaje się do cięcia i umieszczania w wazonie z wodą, ponieważ zamyka się tak samo, jak podczas deszczu. Tym gatunkiem należy zatem zachwycać się jedynie w ogrodzie. Wszystkie trzy gatunki kwitną bardzo długo, bo od sierpnia lub września aż do końca listopada, kiedy przymrozki stają się coraz bardziej uciążliwe dla tych niewymagających roślin.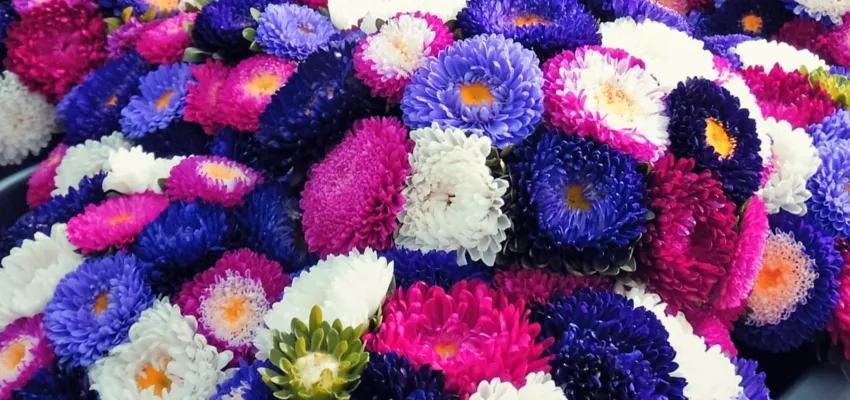 Ogród pełen jesieni
Aster nowobelgijski to bardzo wdzięczna roślina, jeśli chcesz pięknie udekorować swój ogród, park czy klomb w centrum miasta. Nowoangielski natomiast jest bardzo niewybredny i wytrzymały. Choć preferuje żyzną glebę, wyrośnie i na innych rodzajach, byleby miał dostęp do promieni słonecznych. Aster krzaczasty ma tendencje do rozrastania się i zajmowania dużych powierzchni. Należy przesadzać ten gatunek w inne miejsce co cztery lata, ponieważ dochodzi przez niego do wyeksploatowania gleby w starym miejscu. W ogrodach najlepiej sprawdza się jako dekoracja wzdłuż ścieżek i chodników.
Astrowe wiązanki
Bogata kolorystyka astrów daje szerokie możliwości komponowania ich z innymi kwiatami. Różowe i fioletowe astry świetnie będą współgrały z różowymi i jasnopomarańczowymi różami, beżowymi i białymi eustomami, różami gałązkowymi, jasnoróżowymi buwardiami, drobnymi białymi gipsówkami, a białe astry pięknie wyglądać będą w towarzystwie pomarańczowych gerber i margaretek. Tak skomponowane bukiety doskonale będą nadawały się na prezent dla wrześniowych i październikowych jubilatów oraz solenizantów. Astry należy ścinać dopiero wtedy, gdy pąki będą w pełni rozwinięte. Są bardzo trwałymi i żywotnymi roślinami, a w wazonie stać mogą nawet dwa tygodnie. Lubią one słodką wodę, wobec czego do naczynia, w którym spoczną, możesz dodać odrobinę miodu lub cukru. Aby dwukrotnie przedłużyć ich trwałość, zaleca się przez dwie godziny przetrzymać rośliny w dziesięcioprocentowym roztworze cukru gronowego.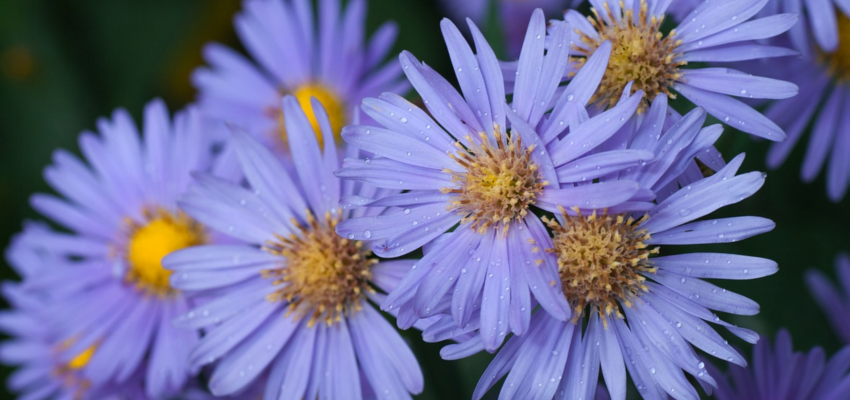 Astry często bywają niedoceniane, rzadko układa się z nich bukiety ślubne. Mają one jednak swój wyjątkowy i niepowtarzalny urok. Odkryj gatunki z tego rodzaju roślin i udekoruj nimi zarówno swój ogród, jak i wnętrze domu. Pamiętaj, że możesz także przesłać wyjątkową niespodziankę bliskiej osobie w bardzo szybki sposób, zamawiając bukiet online.