Otrzymane kwiaty zawsze sprawiają dużo radości, ale po pierwszym zachwycie przychodzi pora, by odpowiedzieć sobie na pytanie - co z nimi zrobić? Najlepszym pomysłem wydaje się być wykorzystanie ich jako efektownej dekoracji mieszkania. Podpowiadamy, jakimi gatunkami i w jaki sposób można przystroić swoją sypialnię.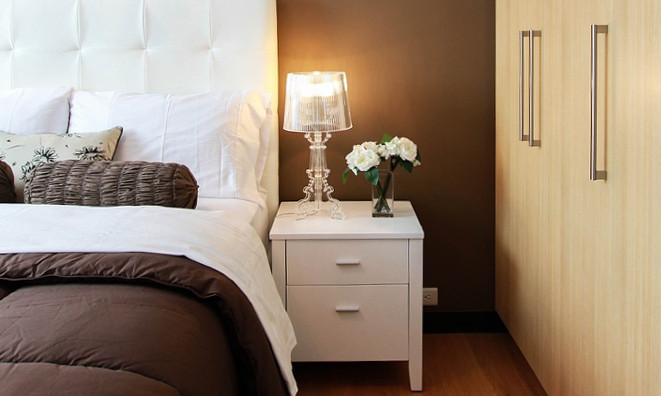 Spójność wystroju
Warto pamiętać, że kompozycja kwiatowa ma urozmaicić wystrój wnętrza, a nie na nowo go definiować. Przed umieszczeniem w jakimkolwiek miejscu wazonu lub doniczki trzeba się zastanowić, czy aby na pewno nie zaburzy to harmonii całości. Dekoracja powinna przyciągać wzrok, ale nie może przytłaczać domowników, dlatego jeżeli pokój jest nieduży, lepiej dodatkowo go nie zagracać, przykładowo ogromnym koszem rozmaitych kwiatów. Tak piękny, duży bukiet zdecydowanie bardziej pasuje do obszernego salonu. Umiar należy zachować także w kwestii kolorów, ponieważ sypialnia pełni w domu przede wszystkim funkcję wypoczynkową, a trudno się wyciszyć, kiedy feeria barw płatków nieustannie rozprasza. Najbezpieczniej postawić na łagodne odcienie błękitu, beżu i brązu lub na klasyczną biel. Na pewno sprawdzi się wiązanka różowych tulipanów, jasnych róż lub delikatnych goździków przeplatanych z margaretkami.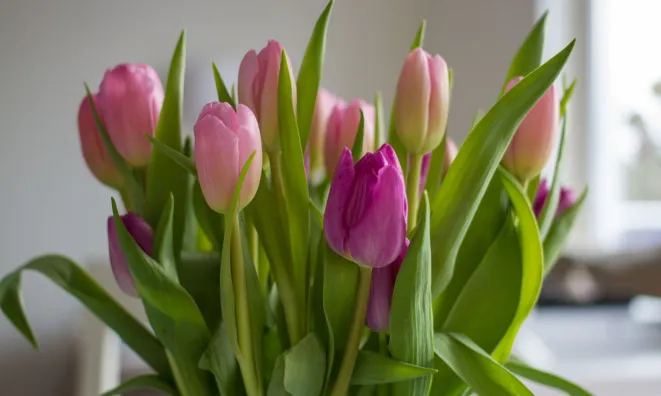 Gdzie najlepiej?
Jeżeli jest się już pewnym, że kwiaty będą się dobrze komponowały z wystrojem pomieszczenia, przychodzi pora na ulokowanie ich w konkretnym miejscu. Te otrzymane w formie tradycyjnego bukietu, koniecznie trzeba wstawić do odpowiedniego wazonu, który powinien być nie większy, niż potrzeba, żeby wszystkie łodygi miały dostęp do wody. Naczynie można położyć na dowolnej powierzchni płaskiej, takiej jak szafka nocna, parapet czy komoda, o ile ma się pewność, że nikt nie zawadzi o nie przez nieostrożność. Rośliny w doniczkach, koszach czy też ozdobnych pudełkach można również bez obaw umieścić na podłodze, o ile będą tam dobrze wyeksponowane.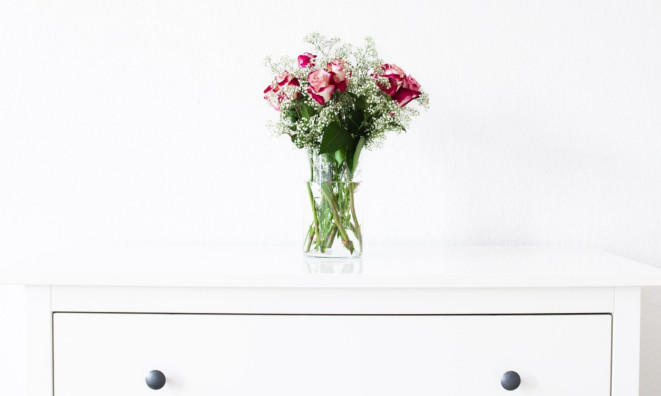 Najczęściej popełniane błędy
Podczas ozdabiania sypialni florystycznymi kompozycjami często zdarzają się wpadki. Warto dowiedzieć się, jakie błędy popełniają inni, by samemu móc się ich wystrzec. Najczęściej niezadowolenie z umieszczenia w pomieszczeniu kwiatów wynika z faktu, że zbyt intensywny zapach nie pozwala spokojnie zasnąć. Do najsilniej pachnących gatunków należą lawenda, maciejka, hiacynt, narcyz, jaśmin i konwalia - jeżeli kupiliśmy je lub dostaliśmy od kogoś w prezencie, lepiej pozostawić je w salonie lub jadalni. Nieco bardziej problematyczne może okazać się dobranie roślin do sypialni alergika. Nawet, jeśli bukiet wygląda wyjątkowo pięknie, nie warto dla takiej ozdoby budzić się każdego ranka z objawami uczulenia oraz złym samopoczuciem, dlatego w tej sytuacji najlepiej wybrać najbardziej łagodne dla naszych dróg oddechowych kwiaty.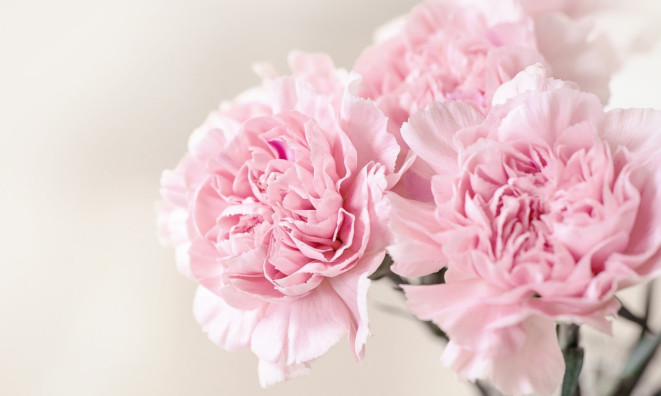 Prawdopodobnie każdy z nas jest w świetnym humorze, kiedy zasypia i budzi się w dobrze urządzonym, gustownym pokoju. Kwiaty z pewnością sprawią, że pomieszczenie zyska subtelną, ale interesującą dekorację. Możliwość częstego zmieniania zawartości wazonu to ponadto sprawdzony sposób na regularne odświeżanie aranżacji.