Zgodnie z tradycją, w pierwszych dniach po porodzie obdarowuje się zarówno młodą mamę jak i noworodka. Dziecku zwykle przynosi się w prezencie ubranko lub zabawkę, natomiast świeżo upieczona mama z reguły otrzymuje kwiaty. Jaki bukiety wybrać z tej okazji?
Klasyczne róże dla młodej mamy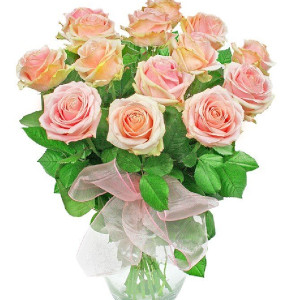 Kupując bukiet dla młodej mamy, dobrze jest kierować się jej preferencjami dotyczącymi na przykład gatunku kwiatów. Natomiast jeśli są one nieznane, wybór powinien paść na coś uniwersalnego i popularnego, takiego jak róże. Dużą zaletą tych kwiatów jest sposób w jaki one się nam kojarzą - przywodzą na myśl elegancję, szacunek i prawdziwe uczucia. Z tego powodu doskonale sprawdzą się jako podstawa bukietu z okazji narodzin dziecka. Miłym akcentem będzie dopasowanie koloru kompozycji do płci dziecka, jeśli więc na świat przyszedł chłopiec róże powinny być niebieskie. Z kolei mamie małej dziewczynki można podarować bukiet w odcieniach różu. Drugim rozwiązaniem jest wyjście naprzeciw stereotypom i sprezentowanie kolorowej kompozycji, która będzie łączyła w sobie kwiaty o różnych odcieniach.
Kolorowy i wesoły bukiet z okazji narodzin dziecka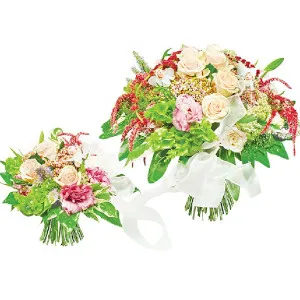 Narodziny dziecka to niezwykle szczęśliwy moment dla każdej świeżo upieczonej mamy, warto podkreślić radosny charakter tego wydarzenia poprzez sprezentowanie kobiecie kolorowego bukietu. Biel i pastelowe odcienie takie jak pudrowy róż oraz błękit idealnie nadają się na okolicznościową kompozycję z okazji przyjścia na świat malutkiego człowieka. Jeśli urodziła się dziewczynka, dobrym pomysłem jest podarowanie kwiatów również jej, bukiet dla mamy i maleństwa to zestaw dwóch bliźniaczych kompozycji. W ich skład wchodzą róże, eustomy oraz molucella, dodatkowego uroku wiązankom dodaje delikatna wstążka. Mniejsze kwiaty, te przeznaczone dla nowonarodzonego dziecka, można ususzyć, wtedy będą one cudowną pamiątką przypominającą o tym ważnym dniu.
Elegancki flowerbox z niespodzianką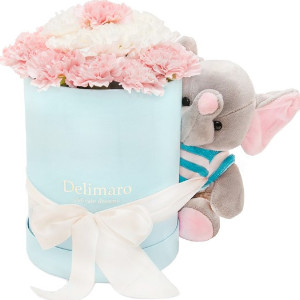 Oryginalnym pomysłem na kwiaty dla młodej mamy jest flowerbox. Zestaw stworzony specjalnie z myślą o tej niezwykłej okazji, jaką jest pojawienie się na świecie maleństwa został wzbogacony o uroczy dodatek w postaci pluszowego słonika ubranego w niebieską lub czerwoną bluzkę - dzięki temu flowerboxa można dobrać do płci dziecka. Sama maskotka jest również formą upominku, na przykład dla noworodka. Kto wie, być może w przyszłości stanie się ona ulubioną zabawką? Dużą zaletą kompozycji kwiatowych w pudełku jest brak konieczności ich podlewania, można więc postawić je nawet przy szpitalnym łóżku młodej mamy.
Ofiarowanie kwiatów świeżo upieczonej mamie ma na celu jej uhonorowanie oraz podziękowanie za cały trud, który włożyła w to, aby na świecie pojawiło się dzieciątko. Ponieważ pierwsze momenty po porodzie często są trudne, młoda mama z całą pewnością bardzo ucieszy się z takiej formy wyrażenia uznania, jaką jest bukiet świeżych i pachnących kwiatów.