Średniowiecznym zwyczajem ślubnym było zakładanie przez Młodą Parę wianków uplecionych ze świeżych kwiatów. Tradycja nie przetrwała do czasów współczesnych, ale nadal da się zaobserwować jej ślady. Po pierwsze, jego okrągły kształt miał symbolizować wieczność - miłość i wierność aż do śmierci, a obecnie, dokładnie to samo znaczy obrączka. Same kwiaty również nie zniknęły, ponieważ nadal odzwierciedlają niewinność i młodość niosącej je kobiety.
Właśnie dlatego, niemal każda panna idąca do ołtarza decyduje się na urozmaicenie stroju pięknym bukietem. Kiedyś decydowano się zwyczajowo na różę w pełnym rozkwicie, otoczoną pierścieniami kwiatów tego samego gatunku. Całość dopełniały powplatane pomiędzy nimi wstążki.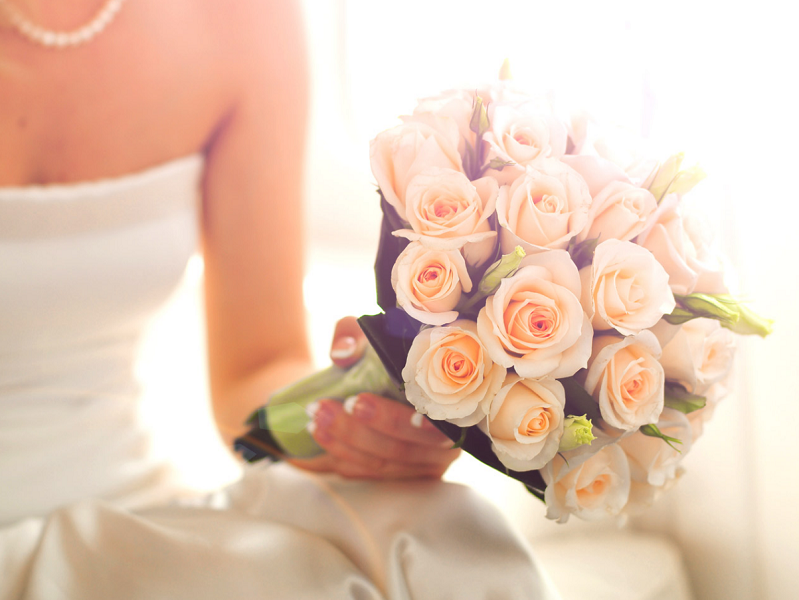 Coraz mniej współczesnych Panien Młodych decyduje się na tak standardowy bukiet. Podobnie jak suknię, wybiera się go bardzo indywidualnie, starannie rozważając wszystkie za i przeciw. Pojawia się wiele nowości, dzięki którym podjęcie tej decyzji staje się kolejną okazją do olśnienia zaproszonych gości. Niesiona wiązanka nie musi nawet zawierać żywych kwiatów! Widuje się kompozycje z papieru, guzików, muszli, biżuterii, piór i szyszek. Nic nie ogranicza kreatywności :)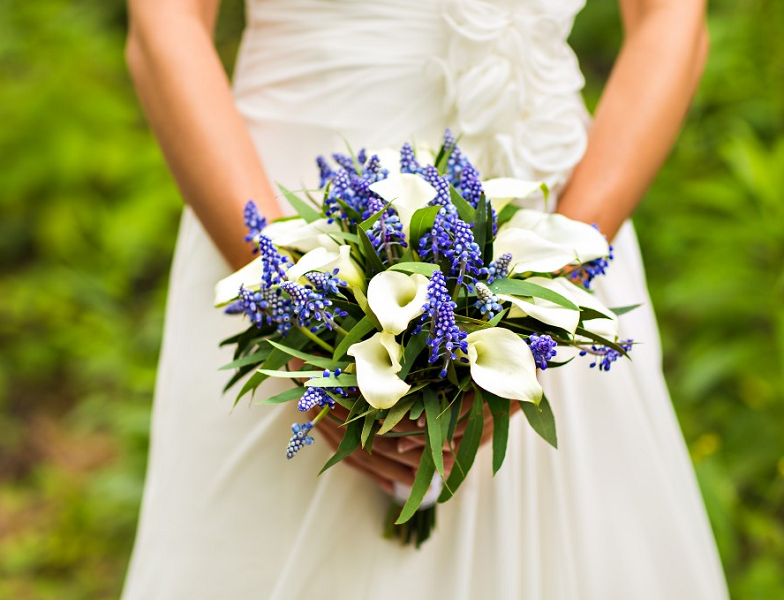 Pomimo ogromu możliwości, nadal zdecydowana większość pozostaje przy kwiatach. Nie znaczy to jednak, że i te bardziej tradycyjne bukiety się nie zmieniają. Przede wszystkim, zdecydowanie rozszerzył się wachlarz proponowanych przez florystów gatunków. Jeszcze w zeszłym wieku, niemal każdy decydował się na róże, goździki lub lilie. Zazwyczaj stawiano na pastelowe kolory, które pasowały do białej sukienki, ale nie odwracały od niej uwagi.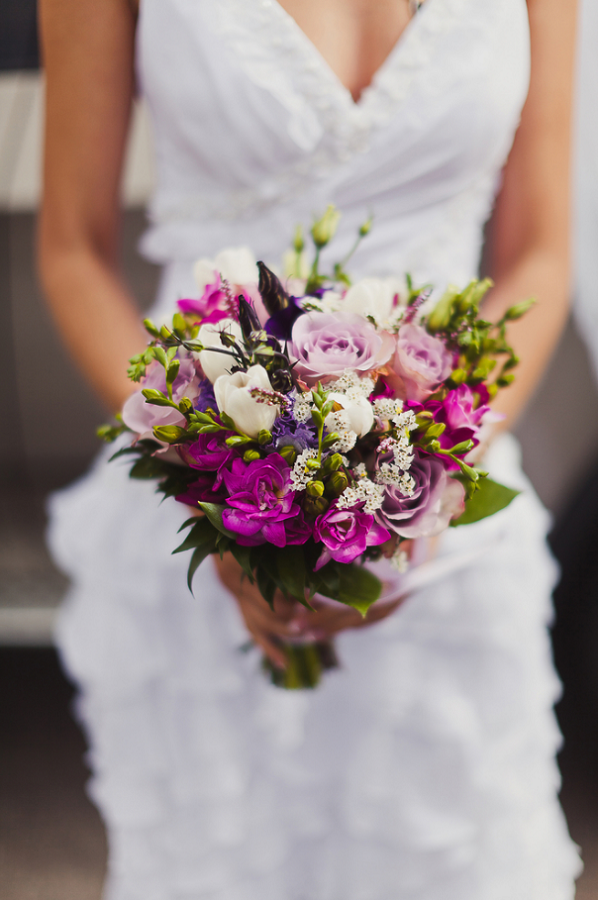 Teraz w modzie jest dobieranie bukietu do dekoracji oraz stroju. Coraz częściej do wiązanki trafiają chociażby zboża, lawenda i kwiaty polne. Pozwolenie sobie na bardziej wyraziste barwy, na przykład szkarłat lub fiolet, przestało być źle widziane. Daje to większe pole do popisu Pannie Młodej, która chce być wierna tradycji, ale przy tym podkreślić niepowtarzalność swojej kreacji.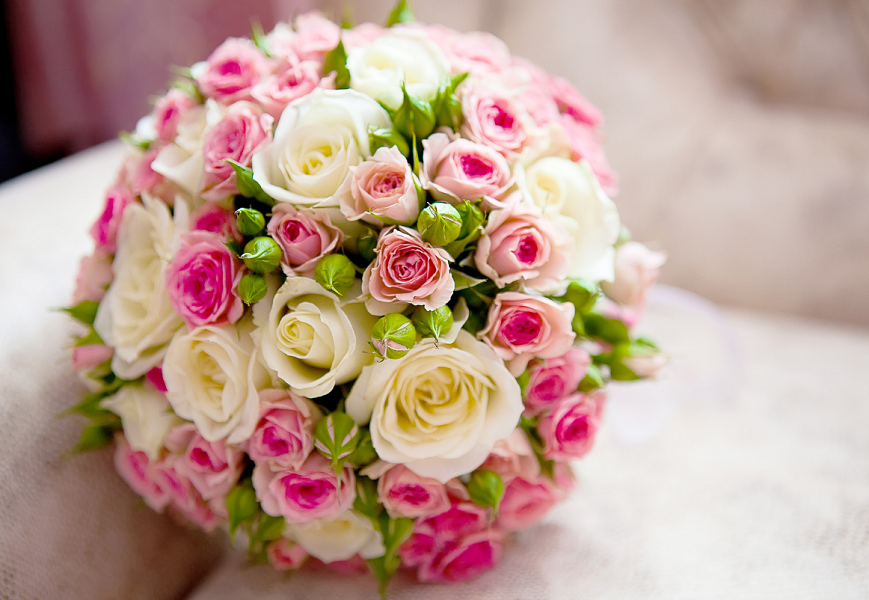 Co do kształtu, najpopularniejsze bukiety są zbliżone do połowy kuli, ale w tym aspekcie także pojawiają się zmiany. Widuje się takie, które wyglądają jak świeżo zerwane naręcze. Ma to budzić skojarzenie z prostotą i naturalnością. Można również wykorzystać ozdobny koszyk dopasowany do sukni. Sporadycznie, największe fanki minimalizmu decydują się na wzięcie ze sobą do ołtarza tylko jednego, przyozdobionego kwiatu, na przykład białej róży.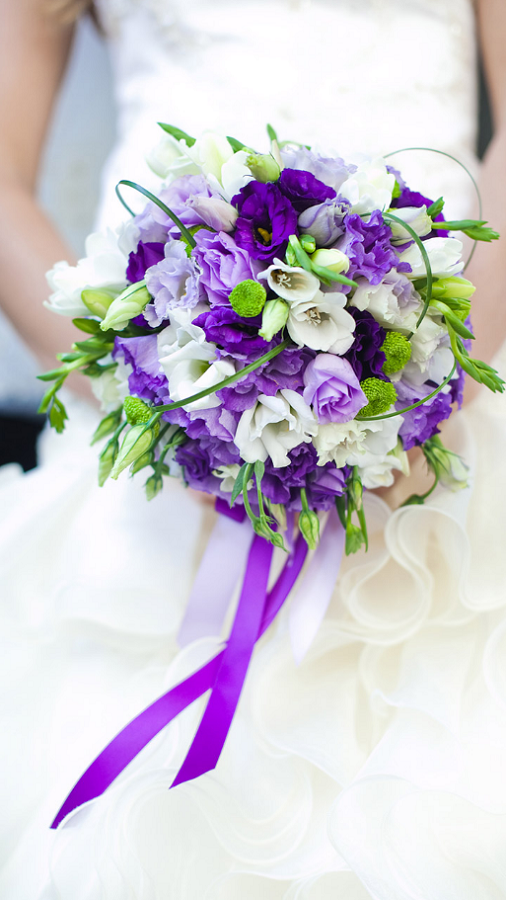 Jak widać, możliwości jest mnóstwo. Przed osobą zamawiającą bukiet stoi wybór gatunków, kolorów, ozdób i kształtów… Podejmując te wszystkie decyzje, warto się zastanowić, jaki efekt chcemy uzyskać. Subtelne podkreślenie urody czy przyciąganie wzroku przepychem? W każdym przypadku będą to prawdopodobnie najlepiej zapamiętane kwiaty ze wszystkich kupionych w życiu, więc żadna chwila poświęcona na zastanawianie się nad nimi, nie jest stracona.