Mówi się o nich, że są najważniejszymi osobami w życiu, bowiem miłość, jaką żywi się do mamy, to wyjątkowe uczucie. Już niedługo nadejdzie doskonała okazja, aby je wyrazić i uhonorować tą niezwykłą postać. W jaki sposób to zrobić i co podarować mamie 26 maja? Poznaj nasze pomysły na prezent z okazji Dnia Matki.
Spersonalizowany prezent na Dzień Mamy
Butelka dobrego wina lub likieru w połączeniu z czymś słodkim to sprawdzony pomysł na udany prezent z okazji Dnia Matki. Decydując się na wręczenie takiego upominku, warto zadbać o to, by całość była ładnie zapakowana, tak jak w przypadku Zestawu Kupidyna, który elegancko prezentuje się w drewnianej skrzyneczce. To opakowanie nie tylko sprawia, że prezent wygląda efektownie, ale też niesie za sobą możliwość personalizacji. Na ściankach pudełka można umieścić dowolny grawerunek, dzięki któremu mama z całą pewnością poczuje się wyjątkowo - a przecież właśnie o to chodzi w Dniu Matki. Treść napisu może być dowolna, od okolicznościowego "Z okazji Dnia Mamy" po "Kocham Cię". Dobrym rozwiązaniem jest też wykonanie grawerunku w formie nawiązania do wspólnych wspomnień. Natomiast innym pomysłem na osobisty, spersonalizowany prezent dla mamy  jest podarowanie jej książki z wydrukowaną osobistą dedykacją.
Flowerbox i czekoladki na prezent dla mamy
Flowerbox Delimaro to idealny prezent dla każdej eleganckiej mamy. Samo pudełko prezentuje się wyśmienicie - prosta forma w połączeniu z klasycznymi kolorami, czyli czernią, czerwienią i bielą przypadnie do gustu wszystkim tym, którzy w życiu codziennym dużą wagę przykładają do estetyki oraz lubią otaczać się ładnymi przedmiotami. Kwiaty zamknięte w pudełku są nie tylko bardziej oryginalne od tradycyjnych bukietów, ale też wygodniejsze, gdyż nie wymagają podlewania - specjalne wypełnienie znajdujące się w środku opakowania zapewniając odpowiedni poziom nawodnienia roślin. Do flowerboxa warto dołączyć słodki upominek w postaci pralin zamkniętych w pasującym opakowaniu, dzięki czemu cały prezent będzie prezentował się spójnie.
Najcenniejsze, co można podarować mamie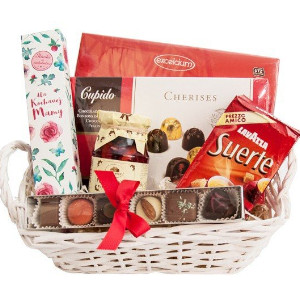 Współcześnie, gdy większość osób jest niezwykle zabiegana i nie zawsze ma czas spotkanie z drugą osobą, to właśnie wspólne popołudnie może okazać się najcenniejszym prezentem dla mamy. Długie godziny spędzone na wspólnej rozmowie umili podarunek w postaci kosza prezentowego. Istnieje wiele rodzajów tego upominku, w zależności od preferencji, można zdecydować się na zestaw aromatycznych herbat czy też pysznych słodkości. Sprezentowanie takiej kompozycji to dobry pomysł również dla tych, którzy w Dzień Matki nie mogą spotkać się osobiście ze swoją mamą. Wysyłając jej tego rodzaju kosz, warto pamiętać o dołączeniu liściku zawierającego miłą wiadomość lub okolicznościowe życzenia.
Prezent na Dzień Matki nie musi być najbardziej wyszukanym upominkiem na świecie, ponieważ w tym święcie dużo bardziej liczy się to, co niematerialne, a więc powiedzenie mamie, jak bardzo jest ważna i kochana. Doceniać ją powinno się nie tylko podczas takiego święta jak Dzień Matki, ale przez cały rok - proste zdanie "Dziękuję, że jesteś" to najlepszy prezent i poprawiacz humoru niezależnie od okazji, upominek natomiast będzie świetnym dodatkiem uzupełniającym te ważne słowa.