23 czerwca to dzień poświęcony jednej z najważniejszych osób w całym naszym życiu, bo przecież Tata bezsprzecznie zalicza się do tego wyjątkowego grona. Nierzadko właśnie do Taty zwracaliśmy się z problemami, to on był ostatnią deską ratunku, gdy Mama mówiła stanowcze "nie". W dzieciństwie to Tata uczył pływać i jeździć na rowerze. Za to wszystko warto podziękować mu w Dniu Ojca. Najlepszym uzupełnieniem dla szczerego "kocham Cię" będzie kosz prezentowy.
Kosz prezentowy dla fana motoryzacji
Doskonałym prezentem okaże się koszyk pełen pralin, różnych rodzajów czekolad oraz bukietem herbacianym. Ten ostatni może zostać skonsumowany w przepięknym kubku z motocyklem, który jest dołączony do zestawu i z pewnością ucieszy prawdziwego fana motoryzacji. Taki prezent nie tylko można wręczyć swojemu Tacie, ale np. teściowi, którego Tatą często się nazywa, a chcemy tak samo podziękować mu za wychowanie naszego współmałżonka czy opiekę nad jego wnukami, a naszymi pociechami.
Kosz prezentowy pełny pyszności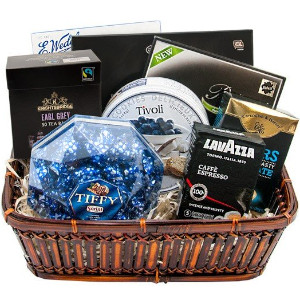 Może zdarzyć się tak, że Tata ma nieco bardziej wysublimowany gust i ceni sobie towary luksusowe. Wychodząc na przeciw jego preferencjom warto sprezentować kosz z brytyjską herbatą Earl Grey oraz czarną kawą espresso o szlachetnym smaku. Oczywiście nie może zabraknąć słodkich przekąsek: pralin, torcika wedlowskiego czy kruchych ciasteczek. Wszystko to znajduje się w koszu prezentowym, który stanowi piękną obudowę. Tata z pewnością będzie zachwycony takim podarunkiem.
Elegancki prezent na Dzień Ojca
Będąc w temacie eleganckich prezentów, warto dalej pójść tropem koszy prezentowych, ponieważ są one niezwykle efektowne. Miks pralin, czekolad i innych słodkich przekąsek to rozkosz dla każdego podniebienia. 23 czerwca to również jeden z pierwszych dni lata, dlatego warto, aby prezent zawierał jakiś orzeźwiający napój, idealny na upały.
Prezent na Dzień Ojca powinien być wyjątkowy i dopasowany do charakteru Taty - dzięki takiemu indywidualnemu upominkowi poczuje się on naprawdę doceniony. Nie można zapomnieć też o dołączeniu do niespodzianki szczerych życzeń, czy to wyrecytowanych podczas spotkania na żywo czy też dołączonych do podarunku w formie bileciku.