Wiosna i lato to ulubione pory roku wielu z nas. Pogoda umila dni słońcem i wysokimi temperaturami, a panie chętniej eksperymentują z modą i decydują się na oryginalne dodatki. Jednymi z tych, które budzą duże zainteresowanie są wianki wykonane z żywych kwiatów. Jak zatem samodzielnie wykonać taki dodatek?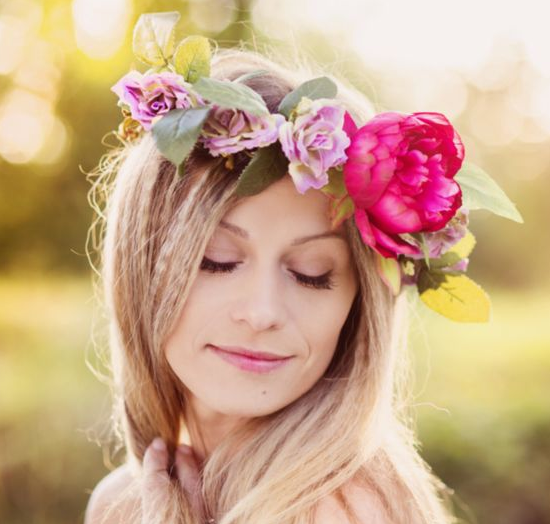 Przy tworzeniu wianka kluczowe znaczenie mają wybrane rośliny. Muszą być nie tylko ładne, ale przede wszystkim trwałe. Do takich można zaliczyć: gipsówkę, margerytki, stokrotki, bzy, lawendę, gerbery, róże, piwonie, eustomy, słoneczniki, drobne goździki czy mirt. Istotną rolę odgrywa także kolorystyka i wielkość kwiatów. Obecnie modne są kompozycje w odcieniach pastelowych, ale dobór kolorów jest raczej kwestią gustu. Istnieją jednak pewne zasady, które mogą okazać się przydatne przy tworzeniu własnego wianka.
Przyjmuje się, że panie o włosach jasnych powinny unikać roślin w jaskrawych kolorach, na rzecz delikatniejszych barw. Szatynkom i brunetkom poleca się zastosowanie reguły odwrotnej, z kolei dla pań o włosach w odcieniach czerwieni pasować będą kwiaty złote, żółte i beżowe. Kolejna zasada dotyczy doboru wielkości kwiatu do wzrostu. Kobiety wysokie mogą pozwolić sobie na dekorowanie wianków okazałymi kwiatami, na przykład piwoniami. Z kolei niższe panie będą wyglądać subtelnie, jeśli zdecydują się na drobne kwiatki. Okazuje się, że na dobór odpowiedniej rośliny do wianka ma również gęstość włosów. W przypadku włosów cienkich zaleca się wianki z dużych kwiatów, a z kolei bujnych fryzur - z drobnych kwiatków.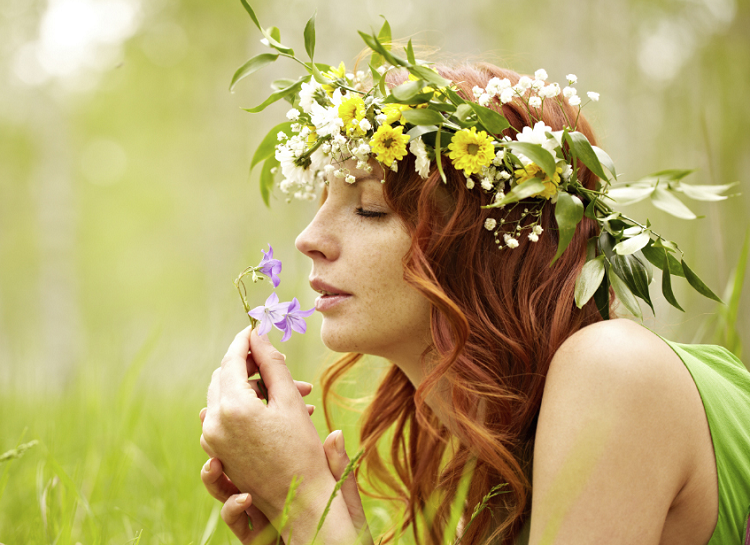 Gdy już zarówno rodzaj roślin, ich wielkość i kolor są dobrane, można przystąpić do samodzielnego wykonania wianka. Metody są dwie: plecenie wianka na łodygach kwiatów, bądź na stelażu. Decydując się na pierwszą z nich, należy pamiętać o doborze takich roślin roślin, które nie mają łamliwych łodyg. Wówczas kwiat z najdłuższą łodygą traktuje się jako bazowy i prostopadle do niego nawija pozostałe – pamiętając by pąki znajdowały się jak najbliżej siebie. Metoda druga wymaga przygotowania drutu florystycznego (dopasowanego do rozmiaru głowy), taśmy florystycznej i nici. Drut wystarczy owinąć taśmą, a następnie przy pomocy nitki przytwierdzać do niego rośliny. Można to robić pojedynczo lub tworzyć małe bukieciki. W zależności od zamierzonego efektu, oplata się cały drut, bądź tylko jego część.
Pozostaje już tylko ostatnia kwestia - gdzie i z czym nosić wianek? Odważne dziewczęta noszą je do codziennych stylizacji, jednak częściej wybieraną opcją są szczególne okazje, chociażby takie jak śluby, ponieważ żywe kwiaty są świetną alternatywą dla welonu. Nadają stylizacji lekkości i oryginalności, o którą wiele przyszłych żon szczególnie zabiega w tym dniu. Idealnie pasują też jako dekoracja głowy dziewczynek przystępujących do Pierwszej Komunii Świętej. Warto pamiętać, że nie trzeba ograniczać się wyłącznie do ozdabiania nimi głowy. Wianki można wykorzystywać także jako dekoracje wnętrz lub ogrodu – wszystko zależy od inwencji.