W końcu nadeszła długo wyczekiwana wiosna. Oznacza to, że w domach coraz częściej goszczą kolorowe ozdoby w postaci świeżych kwiatów, nadające pomieszczeniu optymistycznego charakteru. Jednak kwiaty cięte niestety mają to do siebie, że szybko zaczynają obumierać. Co zrobić, by cieszyły oko dłużej niż przez tych kilka dni, kiedy są świeże i ładnie wyglądają?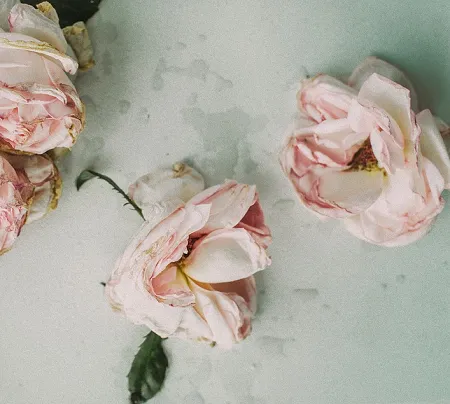 Zasuszyć! To doskonały sposób na to, by jeszcze niedawno żywe i pachnące kwiaty zmieniły się w całoroczną, równie piękną ozdobę. Samo zasuszenie nie wymaga wiele wysiłku. W dodatku można wybierać pomiędzy kilkoma różnymi sposobami, jednak w każdym przypadku istotne jest, by poddawane suszeniu kwiaty były zdrowe - nie mogą być zbyt zwiędnięte, zgniłe czy wypłowiałe. Najpopularniejszą metodą zasuszania jest wieszanie kwiatów do góry nogami na sznurku, w zacienionym i chłodnym pomieszczeniu.
Niektórzy suszą kwiaty za pomocą tzw. metody zielnikowej, wkładając je do książek lub gazet. Sposób ten nie wymaga wiele zaangażowania, jednak trzeba pamiętać, że kwiatki po ususzeniu będą płaskie i niezwykle kruche. Dlatego też najlepiej wykorzystać je na przykład jako element obrazka, który stanie się wspaniałą ozdobą ściany.
Jeszcze inny sposób polega na tym, że w pierwszej kolejności usypuje się w pudełku dwu-centymetrową warstwę kaszy manny. Na tak przygotowanym podłożu układa się kwiaty, które następnie należy delikatnie przysypać wspomnianą kaszą manną. Po około dwóch tygodniach kwiaty są już gotowe do tego, by zdobić mieszkania. Zaletą tego sposobu zasuszania jest to, że rośliny pozostają gładkie i zachowują naturalną barwę.
Co można zrobić z tego typu suszek? Oczywiście bukiety! Wstawione do wazonu, postawione w dowolnym miejscu będą stanowiły doskonałe urozmaicenie dla pomieszczenia, w dodatku przez cały rok. Równie piękną ozdobę stanowią wianki. Różnokolorowe, złożone z wielu rodzajów zasuszonych kwiatów i liści, zawieszone na drzwiach wejściowych, swoim urokiem i pięknem będą cieszyć oko zarówno mieszkańców, jak i ich gości. W tak łatwy sposób można sprawić, że nudne do tej pory drzwi, staną się uroczą wizytówką domu.
Zasuszone kwiaty znajdą również zastosowanie jako ozdoba dla świeczników. Piękne kompozycje dodatkowo oświetlone blaskiem świec, pozwolą wytworzyć w mieszkaniu niesamowity nastrój. Warto wziąć pod uwagę również to, że wykonywanie ciekawych ozdób może stanowić doskonałą okazję do wspólnej zabawy dla całej rodziny.
W kompozycjach z zasuszonych kwiatów najwspanialsze jest to, że mogą cieszyć swoją obecnością przez cały rok - mogą powstać zarówno z kwiatów wiosennych, letnich, jak i z jesiennych liści. Możliwości jest naprawdę wiele, wszystko zależy od wyobraźni.