Wielkimi krokami zbliża się kolejny wiosenny miesiąc – maj, wyjątkowy ze względu na zieleniącą się przyrodę oraz obchodzenie uroczystości komunijnych. To też ważny czas dla dziecka, które wchodzi w nowy, duchowy etap w swoim życiu. W przygotowaniach do białego święta biorą udział również rodzice angażując się, jak tylko mogą. Jednym z punktów na liście rzeczy do zorganizowania znajduje się dekoracja stołu komunijnego. Jak zatem do niej przystąpić?
Podczas każdego dekorowania stołu trzeba trzymać pamiętać, by nie przesadzić z ilością ozdób i przede wszystkim dopasować je do okazji. Przystrojenie stołu na Komunię powinno być eleganckie i najlepiej skupiające się na łagodnych barwach. Bezkonkurencyjna jest oczywiście tradycyjna biel, która symbolizuje niewinność i czystość, dlatego powinna stanowić bazę. Dalej zaś można do niej dobrać kolorowe dodatki, które nadadzą wiosennej świeżości. Warto postawić na modne w tym roku pastele – delikatna zieleń, róż czy błękit odmienią wygląd stołu. W wyborze odpowiedniego koloru zdecyduje z pewnością płeć dziecka.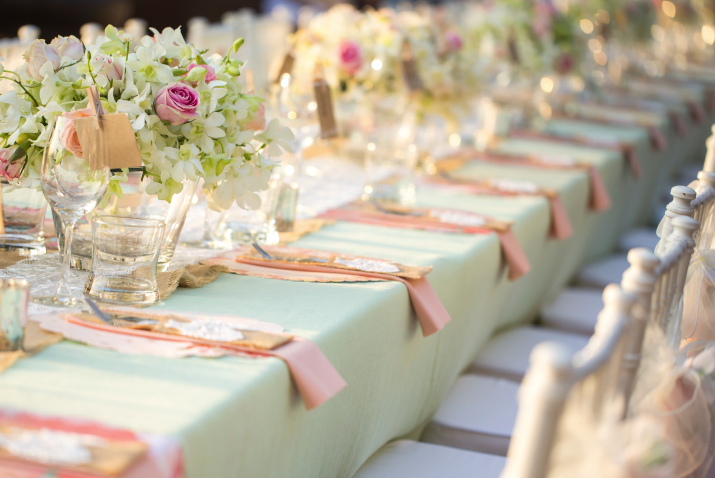 Po dobraniu kolorystyki i wielkości obrusa, można zastanowić się nad wyborem zastawy stołowej. Pierwsza Komunia Święta to ważne wydarzenie dla rodziny, dlatego przygotowując stół warto wyciągnąć porcelanę i sztućce na specjalne okazje. Obok nich nie może zabraknąć papierowych lub materiałowych serwetek, ułożonych w pomysłowy sposób. Jednym z prostszych będzie związanie serwetki kwiatkiem lub złożenie jest w kształt stożka czy róży – te z pewnością zaintrygują gości.
Kolejną ważną dekoracją są świeczniki. Mając szklane, z pustą nóżką można wypełnić je białymi koralikami, a na wierzch postawić ozdobną świeczkę w wybranym kolorze przewodnim. To istotne, by zachować spójność dekoracji – wtedy z pewnością całość będzie prezentować się nienagannie. Nie mając żadnych świeczników, bez problemu można je stworzyć z kieliszków – wystarczy obrócić je do góry dnem, pod kielich włożyć kwiat róży, a na stopce postawić elegancką świeczkę.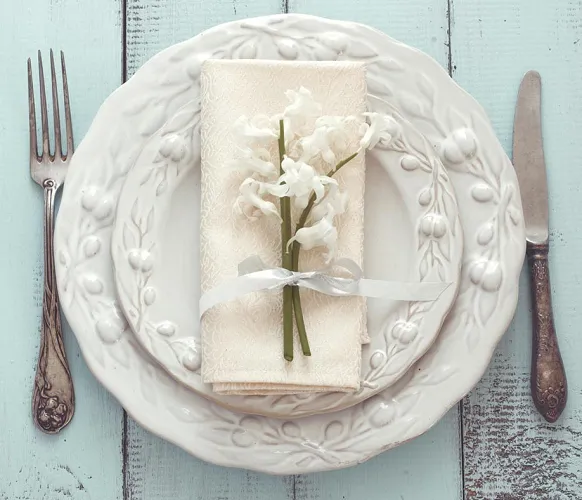 Na komunijnym stole nie może również zabraknąć kwiatów. To one dodają uroku całemu wystrojowi, a z racji na wiosenną porę roku można przebierać w dużej ilości gatunków – od róż i goździków, przez eustomy, po stokrotki, konwalie czy margerytki. Z kwiatów można też upleść wianki, które staną się dekoracją świec. Przybranie z wykorzystaniem wspomnianych wianków, szarf czy klamer powinno nieć również krzesło należące do dziecka komunijnego.
Wbrew pozorom dekoracja stołu komunijnego nie jest łatwym zadaniem. Przede wszystkim potrzeba na nią czasu i wcześniejszego zaplanowania dekoracji. Aby móc cieszyć się tym świętem razem z dzieckiem, warto zająć się ozdobami już na kilka tygodni przed uroczystością.