Mama… któż lepiej zrozumie nasze problemy, otoczy troską czy uśmierzy ból? To właśnie matki są dla swoich dzieci największym oparciem, służąc zawsze dobrą radą i starając się o to, by ich pociechom powodziło się jak najlepiej. Już niedługo 26 maja, czyli najlepszy moment, żeby odwdzięczyć się swoim mamom za wszystko co dla nas robią. To dzień pełen wzruszeń i wdzięcznych słów, które właśnie wtedy brzmią najlepiej. Warto, aby oprócz nich obdarować swoją najukochańszą mamę czymś wyjątkowym, bo zasługuje na to jak mało kto! :)
Kwiaty dla duszy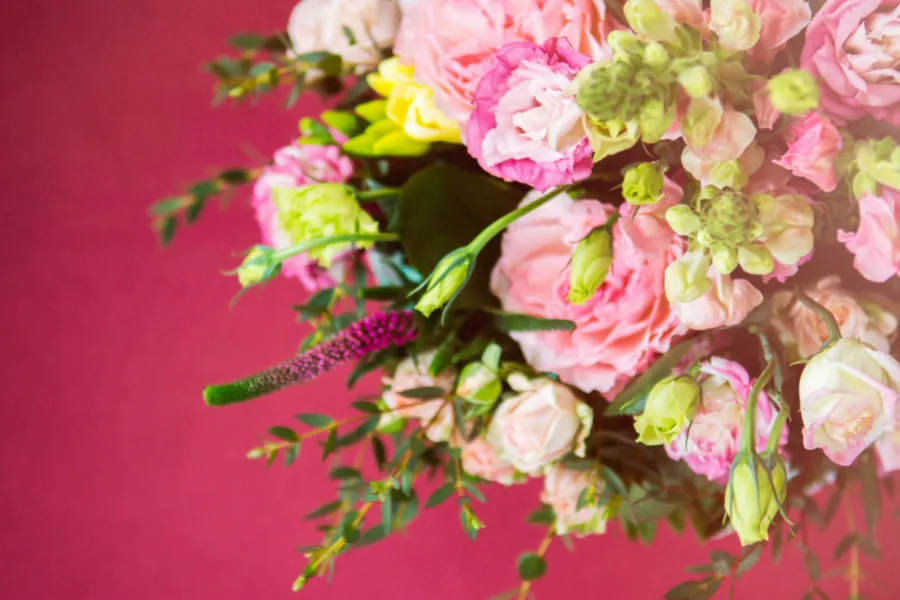 Najbardziej powszechnym z drobnych upominków wręczanych przez niemal wszystkie dzieci jest oczywiście bukiet kwiatów. Ten jednak powinien być niezwyczajny - okazały, rozłożysty i zapierający dech w piersiach. Dokładnie takie wiązanki można znaleźć na naszej stronie internetowej, gdzie specjalnie z myślą o wyjątkowych okazjach stworzono Szmaragdową Kolekcję. Kompozycje stworzone przez pasjonata i mistrza florystyki, Maksymiliana Kuczyńskiego, są zestawieniami łączącymi piękno roślin i nietypowych dodatków.
W skład kolekcji wchodzą różnorodne bukiety, dzięki czemu każdy znajdzie zestawienie idealnie wpisujące się w gust jego mamy. Wielbicielki polnych i wiejskich klimatów z pewnością ucieszą się na widok luźno związanego bukietu stworzonego między innymi z róż, goździków i gerber, które występują w otoczeniu wielu zielonych roślin florystycznych i wyglądają na świeżo zebrane z łąki. Wielbicielki tradycyjnych rozwiązań docenią z kolei kompozycje otoczone kolorowymi kryzami. Te okalają delikatne eustomy, gerbery czy hortensje zestawione ze słonecznikami i różami.
Wśród tej wyjątkowej kolekcji znalazły się także rozwiązania niekonwencjonalne, do których z pewnością można zaliczyć kwiaty umieszczone w pięknym, wiklinowym koszu. Taka kompozycja będzie doniosłym wyrażeniem wdzięczności dla każdej matki, która z dumą postawi taki upominek na honorowym miejscu w salonie. Oryginalność może być wyrażona na różne sposoby, dlatego jeśli kosz pełen kwiatów wydaje się komuś zbyt pospolitym rozwiązaniem, to warto pokusić się o inną wyjątkową kompozycję. Tworzą ją róże, alstromerie, goździki i limonium, a całość jest fantazyjnie otoczona rafią. Nie bez powodu bukiet ten nazwano 'Wirem uczuć' - ta wiązanka jest naprawdę zakręcona, dlatego polecamy podarować je mamom, które lubią wprowadzać do swojego życia nutkę szaleństwa! :)
Słodycz dla podniebienia
Któż nie lubi czasem osłodzić sobie życia maleńkim - a czasem trochę większym - kawałkiem tortu? Dzień Matki sprzyja spotkaniom rodzinnym przy kawie i trudno wyobrazić je sobie bez jakichś łakoci na stole. Dlatego w ofercie Poczty Kwiatowej znalazły się również wypieki o zniewalających smakach, do których na pewno będzie się chciało powracać.
Współpraca z najlepszymi cukierniami z Polski pozwala na wybór sprawdzonych i docenianych przez wielu produktów. Pośród nich znajdują się aromatyczne torty kawowe, czekoladowe, śmietankowe czy orzechowe. Można jednak wybrać nieco lżejszą wersję słodkości i zdecydować się na owocową rozkosz lub eksplozję smaków, jaką gwarantuje tort szwarcwaldzki.
Matki słyną z poświęcenia dla swoich dzieci, których szczęście nierzadko przekładają nad swoje. Za to należy im się wdzięczność, która powinna być wyrażana na co dzień, jednak 26 maja jest najlepszą okazją do wyrażenia jej w wyjątkowy sposób. Kwiaty i słodkości co prawda nie zastąpią uczuć, ale doskonale je podkreślą, wywołując u każdej obdarowanej nimi matki poczucie, że dzieci doceniają jej wysiłki włożone w ich wychowanie.