Kwiaty doniczkowe są piękną i przede wszystkim trwałą ozdobą. Ostatnio dużym uznaniem cieszy się skrzydłokwiat - roślina o charakterystycznym wyglądzie, która ze względu na swój minimalizm i nietypową formę dopasowuje się idealnie do wystroju różnych wnętrz. Dzięki swoim właściwościom oczyszcza powietrze z toksyn, tworząc w mieszkaniu zdrowy klimat, jednak jest dość wymagająca. O czym pamiętać przy pielęgnacji skrzydłokwiatu?
Odpowiednie warunki
Jest to roślina będąca składnikiem runa lasów tropikalnych w Ameryce Południowej i Środkowej. Lubi wilgoć, dlatego powinno się ją zraszać i dbać o odpowiednie nawodnienie podłoża. W zależności od pory roku podlewa się ją z różną częstotliwością: zimą 1 lub 2 razy w tygodniu, latem 2 lub 3. By zachować wilgotność, powinno się ustawić doniczkę na wyłożonej kamykami podstawce z wodą albo w pojemniku z wilgotnym torfem. Nie należy umieszczać skrzydłokwiatu w miejscach bezpośrednio nasłonecznionych, w których może mieć styczność z gazem i przeciągami. Optymalna temperatura dla rośliny, to 16-18°C zimą i 18-21°C latem.
Nawożenie
Pod względem nawożenia skrzydłokwiat nie jest bardzo wymagającym kwiatem. Potrzebuje wieloskładnikowych, płynnych nawozów do kwitnących roślin doniczkowych, które powinno się aplikować właśnie w okresie kwitnienia (czyli na przełomie wiosny i lata). Zabieg powtarza się raz na około dwa tygodnie.
Przesadzanie
Powinno mieć miejsce raz do roku, wiosną - najlepiej w kwietniu. Robi się to standardowo, czyli oczyszczając roślinę ze starej ziemi i przesadzając ją do nowej, żyznej gleby. Jeśli przy okazji chce się rozmnożyć kwiat (co jest zalecane mniej więcej co 3 lata), powinno się przeciąć bryłę korzeniową większych okazów i rozdzielić nadziemną część rośliny. Po takim podziale nowe rośliny umieszcza się w żyznym podłożu, zacienionym miejscu i temperaturze ok. 21°C. Gdy pojawią się nowe liście, można wdrożyć standardową pielęgnację.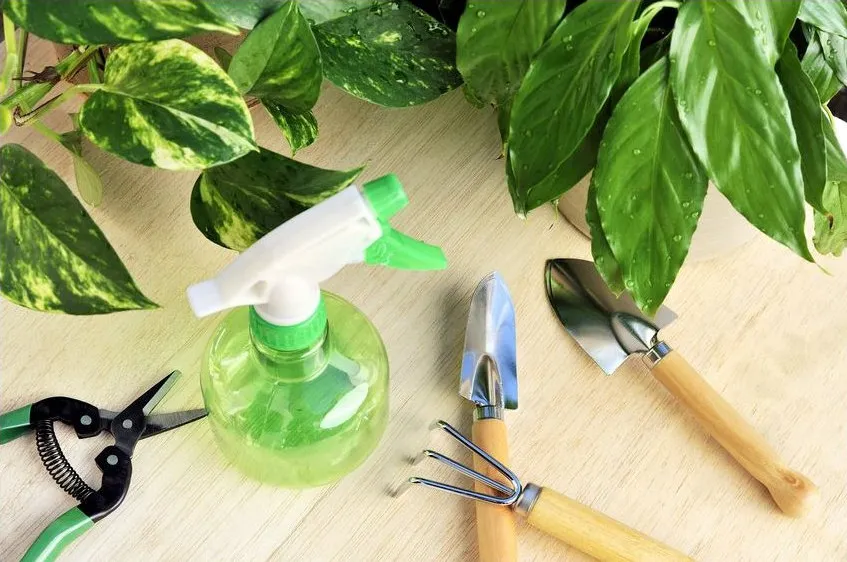 Pielęgnacja
Jeśli chodzi o zabiegi przyczyniające się do utrzymywania skrzydłokwiatów w dobrej kondycji, należy zadbać o wycieranie kurzu z liści rośliny. Specjalne chusteczki umożliwiają szybkie wykonanie tej czynności, co jest niezbędne dla prawidłowego przebiegania procesów, które oczyszczają atmosferę z toksyn. Te kwiaty nie wymagają przycinania, a jedynie usuwania pożółkłych liści, które pojawiają się na skutek zbyt dużego nasłonecznienia. Poza tym warto uważnie obserwować wygląd rośliny, ponieważ w razie jakichkolwiek niedoborów lub chorób, będzie można zauważyć zmiany i szybko im zaradzić. Przykładowo: zwisające liście to znak, że roślina jest przesuszona, a zapobiec temu można poprzez zanurzenie doniczki w wodzie, a później częstsze podlewanie kwiatów.
Poza najbardziej popularną odmianą skrzydłokwiatu (Spathiphyllum wallisii), istnieje wiele innych, różniących się między sobą kolorami i ukształtowaniem liści. Niezależnie od gatunku roślina zawsze wymaga takiej samej pielęgnacji, a ze względu na wielość form i swój uniwersalny charakter świetnie nada się na prezent, który będzie długotrwałą pamiątką dla obdarowanych przez nas osób.