Pierwsze wiosenne kwiaty zdobią już wnętrza mieszkań. Wiele osób decyduje się na hiacynty, które obok krokusów są najbardziej popularnymi kwiatami zwiastującymi tą piękną porę roku. Będąc już posiadaczem tego urokliwego kwiata, warto wzbogacić swoją wiedzę na temat jego pielęgnacji, by cieszyć się jego widokiem jak najdłużej.
Pierwszą istotną kwestią podczas pielęgnacji hiacynta jest wybór miejsca, w którym będzie się znajdować. Warto wiedzieć, że kwiaty te lubią nasłonecznione i ciepłe lokalizacje, jednak pełne słońce nie będzie tutaj wskazane. Kolejnym krokiem jest zadbanie o odpowiednie nawodnienie. Hiacynta powinno się podlewać średnio dwa razy w tygodniu, taka częstotliwość zapewnia stałą wilgotność ziemi i zapobiega jej wysuszeniu. Jeżeli mamy do czynienia z hiacyntem pędzonym w samej wodzie, należy dolewać ją do wysokości korzeni tak, aby nie przykryć cebulki. Ostatnim, opcjonalnym krokiem w pielęgnacji roślinki jest nawożenie - specjaliści jednak nie zalecają używania dodatkowych wspomagaczy.
Hiacynt sam w sobie jest pięknym kwiatem, co nie znaczy, że powinien znajdować się w nieatrakcyjnej doniczce czy naczyniu. W kwestii wyboru rodzaju doniczki dla hiacynta panuje duża dowolność - może być tradycyjna, ceramiczna bądź plastikowa. Drewniane wiaderko czy metalowa osłonka również będzie dobrym pomysłem. Ciekawą opcją, która nada nowoczesnego wyglądu całej kompozycji jest posadzenie hiacynta w przezroczystej doniczce wypełnionej wodą. Paierwszoplanową rolę zagrają tutaj widoczne korzenie. Jest to interesująca alternatywa dla klasycznego kwiatka w ziemi.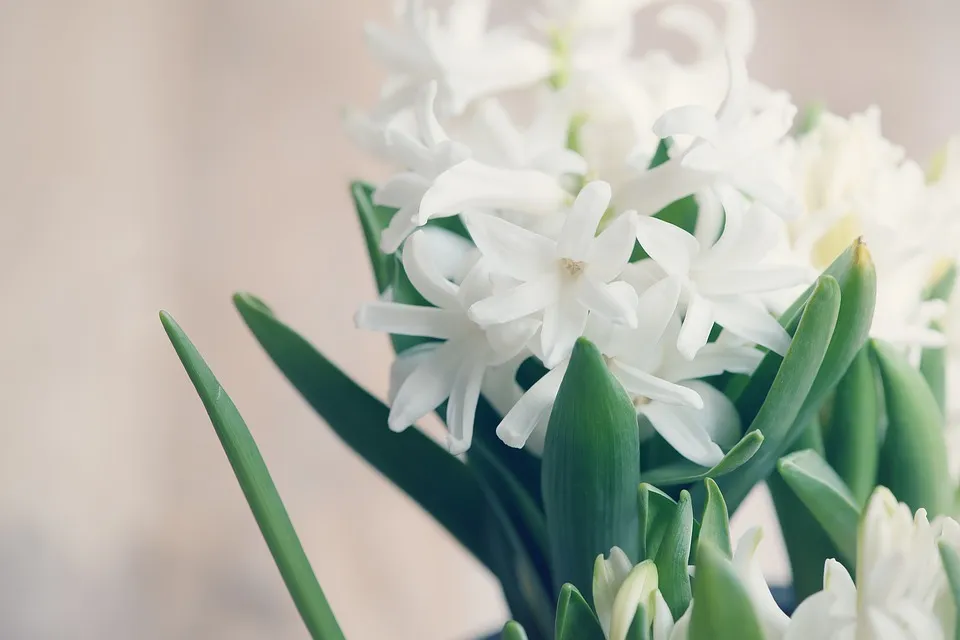 Po przekwitnięciu hiacynta nie powinno się go wyrzucać. Kwiaty cebulkowe można przezimować, aby zakwitły w kolejnym sezonie. Są dwie szkoły zimowania tych roślin, pierwsza mówi o wyciągnięciu, osuszeniu i przechowaniu cebulki w suchym miejscu aż do września, kiedy to będzie można posadzić ją ponownie. Druga szkoła zaleca pozostawienie cebulki w ziemi, trzeba wtedy zadbać o odpowiednie zabezpieczenie doniczki np. agrowłókniną czy jutą. Tak przygotowaną doniczkę pozostawia się w chłodnym miejscu. Ważne jest, aby miejsce nie było zbyt ciepłe, ponieważ hiacynta trzeba przechłodzić.
Hiacynty w domu są znakomitym sposobem na wprowadzenie wiosennej atmosfery. Kolorowe pąki ożywią każde wnętrze, a unoszący się zapach będzie pozytywnie wpływał na nastrój domowników. Kwiat ten jest łatwy w pielęgnacji, zatem nie dziwi fakt, że stanowi on główną dekorację wnętrz. Mnogość kolorów pozwoli stworzyć prawdziwą feerie barw na domowym parapecie. Ten niepozorny kwiatek jest prawdziwym dziełem sztuki, a odpowiednia pielęgnacja może tylko podkreślić jego piękno.