Wraz z nadejściem sierpnia rozpoczyna się sezon kwitnienia hortensji. Jej wyjątkowe kwiatostany zachwycają w przydomowych ogródkach, ale są również świetnym komponentem pięknych bukietów. Jakie kompozycje przygotować z hortensji? Z czym zestawić ten gatunek kwiatów i na jakie okoliczności sprawdzi się taka propozycja?
Wielobarwne hortensje
Kwiatostany hortensji mają kształt pełnej kuli, składają się z wielu mniejszych kwiatków o regularnym kształcie. Taka budowa sprawia, że są to rośliny bardzo okazałe, przez co nawet w wersji monochromatycznej, bez przybrania prezentują się rewelacyjnie. Dodatkowo występują w szerokiej palecie kolorystycznej od bieli, przez fiolety, niebieskości, róże po delikatną, złamaną zieleń. Hortensja świetnie nadaje się jako baza do bukietów, do której następnie dobiera się jedynie drobne dodatki. Obecnie są to bardzo modne rośliny, które na ważnych uroczystościach zastępują tradycyjne róże i piwonie. Oprócz wielu kolorów ich zaletą jest również słodko-kwiatowy zapach.
Bukiet z hortensji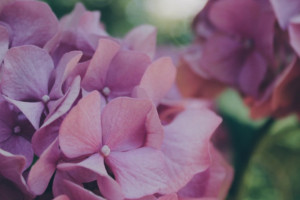 Jak wspomniano wcześniej po hortensje można śmiało sięgać, gdy kompozycja ma być monochromatyczna, bowiem gatunek ten nie lubi konkurencji innych, bazowych kwiatów. Z jakimi odmianami można zestawiać hortensje, aby osiągnąć estetyczny efekt? Najlepiej wybierać drobne kwiaty, sprawdzi się do tego celu np. gipsówka, małe goździki czy cynie. Oprócz tego prawdziwym hitem ostatniego sezonu jest połączenie kwiatów hortensji z sukulentami lub zielonymi liśćmi, w wydaniu egzotycznym - palmowymi lub tradycyjnym - paproci. Do takiego bukietu można użyć białych hortensji, aby efekt końcowy był świeży i minimalistyczny. Kwiaty hortensji można również łączyć ze sobą, wystarczy sięgnąć po 2-3 kolory, ułożyć i obwiązać delikatną wstążką, powstanie bardzo oryginalny i wiosenny bukiet, idealny na plenerowe uroczystości lub jako prezent dla gospodarzy letniego spotkania przy grillu.
Bukiet ślubny z hortensji
Bukiet ślubny jest wyjątkowym dodatkiem dla Panien Młodych. Każda przyszła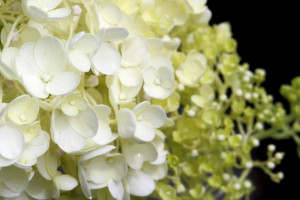 żona chce, aby jej kompozycja była piękna, modna i pasowała do ogólnego motywu przewodniego wesela. Hortensje doskonale nadają się do tego celu. Dzięki wielu dostępnym kolorom, każdy może wybrać coś dla siebie i zestawić preferowaną barwę w taki sposób, aby pasowała do całości stroju oraz dekoracji ślubnych. Ponadto hortensje są bardzo wytrzymałymi kwiatami i nie więdną po kilku godzinach. Decydując się na hortensje w bukiecie ślubnym zyskasz pewność, że będzie on prezentował się nienagannie przez całą noc. Kompozycje z hortensji można przygotować na wiele sposobów: w wersji minimalistycznej z delikatnym przybraniem, rustykalnej z dodatkiem polnych kwiatów lub eleganckiej - monochromatyczne z subtelną dekoracją. Wybór zależy jedynie od Twoich preferencji. Pamiętaj jednak, że gatunek wydziela dość silny zapach, jeżeli nie jesteś jego największą fanką - wybierz inne kwiaty. Przez całą zabawę na weselu intensywna woń może zacząć mocno Cię drażnić.
Hortensje pozostają w trendach florystycznych od wielu sezonów. Bukiety z ich kwiatami występują w wielu wersjach od mieszanych, wielokolorowych kompozycji, po ułożenie w stylu total look. Nic dziwnego, hortensje sprawdzają się na bardzo wiele okazji, a ich kwiatostany zachwycają nawet najbardziej wymagających miłośników kwiatowych dekoracji. Jeżeli poszukujesz niepowtarzalnego bukietu - sięgnij po hortensje.