Miejsce w męskiej marynarce, w którym można umieścić ozdobę, z których najbardziej popularną z nich jest kwiat, nazywamy butonierką. Mężczyźni często obawiają się tego typu ozdób, dlatego potrafią być naprawdę wymagający. Przed ważną okazją trzeba dokładnie zastanowić się nad wyborem odpowiedniego kwiatka lub mini-bukietu. Na co należy zwrócić uwagę?
Skąd kwiaty w butonierce?
Butonierka, czyli przecięcie w klapie marynarki to pozostałość po dawnych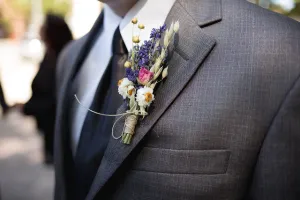 ubraniach tego typu, które zapinało się pod samą szyję - na klapach były zatem guzik i dziurka. Butonierka została ze względów estetycznych - odegrała niebagatelną rolę w modzie męskiej na przełomie XIX i XX wieku. Każdy elegancki mężczyzna, zwłaszcza w Anglii, nosił w butonierce kwiatek, nawet w codziennym stroju. Aktualnie ten detal jest istotny w przypadku szczególnych okazji, takich jak na przykład ślub. Niektórzy mylą butonierkę z brustaszą, czyli miejscem na piersi, do którego wkłada się poszetkę.
Okazja i miejsce
Jedną z istotnych kwestii jest okazja i miejsce uroczystości. Jeśli szukasz dodatku dla Pana Młodego, pamiętaj, że powinien on być tożsamy z bukietem przyszłej żony. Przy doborze kwiatów warto także pomyśleć o motywie przewodnim uroczystości oraz miejscu jej odbywania - w przypadku wesela plenerowego lepiej zdecydować się na kompozycję z polnych kwiatów. Jednak gdy chodzi o eleganckie przyjęcie, lepiej postawić na klasykę - róże lub goździki.
Styl ubioru i kreacja partnerki
Podobnie jest z ubiorem - kreacje w luźnym stylu - na przykład kraciasta marynarka i jeansy pozwalają na odrobinę szaleństwa w butonierce. Ważne jest jednak, aby nie przesadzić z nadmiarem kolorów i gatunków. Dobrze gdyby kompozycja w butonierce w jakiś sposób nawiązywała do kreacji partnerki - na przykład bukiecik z lawendy w przypadku, gdy Pani ma fioletową sukienkę.
Kolor i symbolika
Dla wielu osób bardzo istotną kwestią jest także kolor kwiatów oraz ich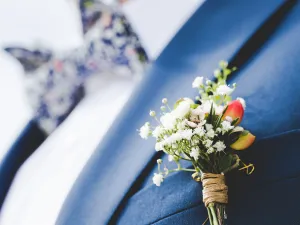 symbolika. I tak na przykład czerwone róże oznaczają gorącą miłość, a białe goździki - niewinność. Warto również wiedzieć, że osoby o jasnej cerze będą się dobrze prezentować w otoczeniu pastelowych kwiatów z ciemniejszym akcentem. Z kolei mężczyźni o śniadej karnacji, powinni pomyśleć raczej o wyrazistych akcentach kolorystycznych, takich jak czerwień lub fuksja. Natomiast dla rudych najkorzystniejsze okażą się ciepłe barwy, takie jak pomarańcz, żółć lub złoto.
Sezon na kwiaty
Ostatnim, ale nie mniej ważnym aspektem, który należy wziąć pod uwagę jest sezonowość kwiatów. Warto pamiętać o tym, że w niektórych miesiącach nie można skomponować wymarzonej kompozycji, bo niektóre rośliny są dostępne jedynie w wybranych miesiącach. Kwiaty wiosenne to między innymi bzy, konwalie, frezje i narcyzy, latem rośnie lawenda, gladiole i słoneczniki, jesienią - goździki, jarzębina i wrzośce, zaś zimą - ciemierniki, hiacynty, poinsecje i amarylisy.
Jak widać wybór odpowiedniego kwiatka do butonierki uzależniony jest od wielu czynników. Z całą pewnością jednak dokładnie przemyślany zakup sprawi, że będzie można cieszyć się uroczystością i eleganckim wyglądem.