Dzień ślubu jest jednym z najważniejszych w całym życiu. By wypadł idealnie należy dokładnie zaplanować wszystkie szczegóły - jednym z nich jest wybór auta i jego dekoracja. Jak powinien wyglądać samochód, by przyciągał uwagę i stał się integralną częścią uroczystości weselnej?
Wiele par zastanawia się, jakimi kwiatami przystroić auto - sztucznymi czy żywymi? Te pierwsze są odporne na deszcz, ale nic nie odda uroku żywych roślin. Dlatego opłaca się ponieść taki wydatek, w końcu ślub jest raz w życiu. Żywe kwiaty znacznie lepiej prezentują się na pojeździe. Dodatkowo można użyć takich samych rodzajów roślin ozdobnych, jakie będą znajdować się w bukiecie Panny Młodej, by cała dekoracja była spójna.
Przede wszystkim zdobienie auta powinno pasować do jego charakteru. Do sportowego pojazdu pasować będą kwiaty o oryginalnym wyglądzie, np. kantadeski, a do klasycznego samochodu lepiej wybrać klasyczne goździki. Kwiatem, który będzie pasować do każdego modelu jest róża - popularna i jakże urokliwa.
Kiedyś auta zdobiły wielkie wiązanki, które umieszczano na maskach. W dzisiejszej modzie ślubnej nie znajdziemy już takich pomysłów na dekoracje. Zgodnie z najnowszymi trendami na aucie umieszcza się skromne akcenty, np. pojedyncze kwiaty i kokardki. W kwestii doboru kwiatów, nie ma żadnych ograniczeń. Każdy nadaje się na dekoracje, o ile da się go przyczepić do pojazdu. Pary młode najczęściej decydują się na goździki, róże, gerbery, helikonie oraz orchidee.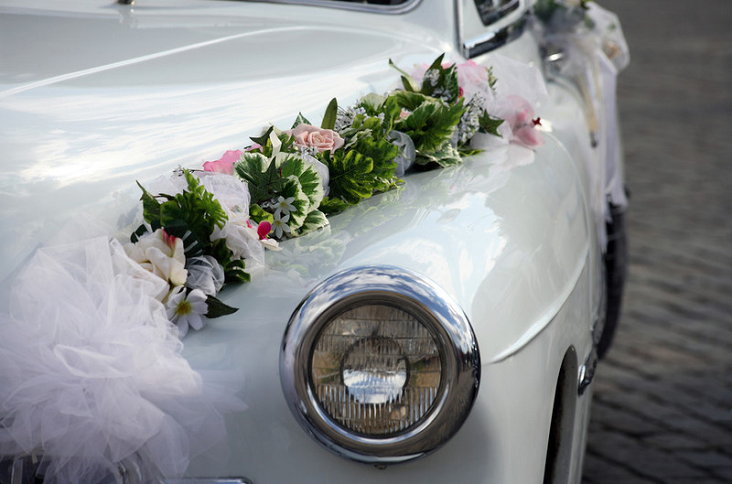 By dekoracja auta skupiała się nie tylko na masce samochodu, warto dokupić dodatki. Z łatwością można znaleźć wiele gadżetów na pojazd ślubny. Najczęściej pary decydują się na tablice rejestracyjne z napisem: Para Młoda, Nowożeńcy lub na wersję z humorem, np. Koniec wolności. Na klamkach idealnie będą wyglądały kokardki z tiulu lub innego podobnego materiału. Co ważne, cała dekoracja powinna być utrzymana w danym odcieniu z dodatkami bieli. Odradza się wyboru kolorowych elementów, gdyż może to wyglądać mało efektownie.
O czym należy pamiętać podczas wyboru dekoracji? Na pewno o tym, że jest to element ozdobny auta, a nie odwrotnie. Nie warto przykrywać zbyt dużej części samochodu - mniejsza dekoracja może mu nadać więcej uroku, niż wielkie bukiety kwiatów i inne dodatków. Istotnym elementem jest także sposób przymocowania dekoracji. Fragmenty muszą być mocno przytwierdzone do samochodu, ale nie mogą naruszyć lakieru. Dlatego zamiast używać kleju lub taśm klejących, lepiej kupić specjalne przyssawki, które zapewnią łatwe przymocowywanie kwiatów, bez ingerencji w lakier auta.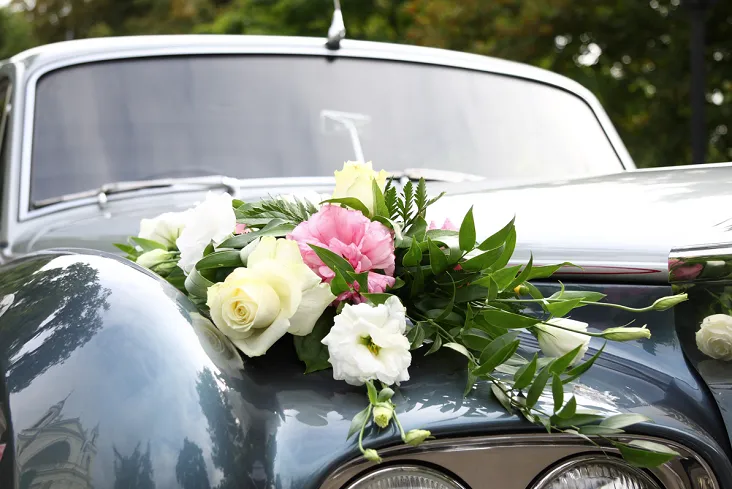 Dekorowanie auta nie jest łatwym zadaniem. Każdy element musi być dokładnie dobrany, by pojazd prezentował się perfekcyjnie. Osobom, które nie mają pomysłu na ustrojenie auta, poleca się skorzystać z usług kwiaciarni. Dzięki temu otrzymają niezbędną pomoc w wyborze kwiatów, a w dniu ślubu nie będą musieli martwić się wyglądem samochodu.
Istnieje wiele możliwości ustrojenia auta - od pojedynczych kwiatów, do wiązanek położonych na masce. Dekoracja powinna podobać się przede wszystkim Parze Młodej, bo to oni w tym samochodzie ruszą we wspólną drogę.