Wielu ludzi ma to do siebie, że łatwiej im przekazać swoje myśli pisząc, a nie mówiąc. Wyjątkowe okazje wymagają nietuzinkowych rozwiązań, dlatego skrzynka wypełniona prezentami, z grawerem przekazującym najwspanialsze życzenia, może się okazać strzałem w dziesiątkę.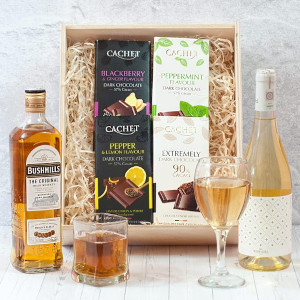 Jak wygrawerować swoje myśli?
Skrzynki dostępne na stronie są wypełnione przeróżnymi smakołykami - od win, przez whisky, aż po eleganckie praliny lub czekolady. Po wybraniu upominku należy zastanowić się, czy chcemy grawerować swoje myśli na wieku skrzynki, czy też nie. Rezygnacja z graweru jest dostępna przy każdym upominku z tej kategorii, ponieważ wiemy, że czasem bardzo trudno jest ubrać myśli w odpowiednie słowa i nie każdy chce to robić. Sam proces wprowadzania tekstu do wygrawerowania jest jednak bardzo intuicyjny, dlatego nikt nie powinien martwić się o to, czy sobie z tym poradzi. Pole tekstowe, w którym można umieścić swoje własne życzenia znajduje się zaraz obok zdjęcia wybranego produktu. Maksymalna długość to 250 znaków, dlatego warto dobrze przemyśleć grawerunek i zawrzeć tam tylko to, co najważniejsze. Na wieku bez obaw można umieścić zarówno zwykłe, krótkie życzenia, jak i ciekawy tekst związany z osobą, którą chcemy obdarować - panuje pełna dowolność!
Wyjątkowy prezent na każdą okazję
Są takie okazje, które zdarzają się tylko raz w życiu. Szczególnie one wymagają nietuzinkowych upominków podkreślających ich wagę i wyniosłość. Jedną z takich okazji jest niewątpliwie ślub, który jest symbolem wejścia na zupełnie nową drogę życia - w pełni wspólną i wyjątkową. Skrzynka Młodej Pary z grawerem sprawdzi się świetnie jako elegancki i oryginalny zamiennik kwiatów.  Została stworzona w taki sposób, aby zarówno Panna Młoda, jak i Pan Młody znaleźli coś dla siebie. Cztery wykwintne czekoladki, irlandzka whiskey oraz aromatyczne włoskie wino to zestaw idealny i wyróżniający się spośród innych. Skrzynka może być ponadto wykorzystana również po jej opróżnieniu. Wyjątkowy grawerunek na wieku sprawi, że będzie idealnym miejscem do przechowywania wywołanych zdjęć z uroczystości. Złocista skrzynka z grawerem to z kolei wspaniałe, eleganckie rozwiązanie stworzone z myślą o wszystkich cudownych kobietach. Nadaje się zarówno dla mamy, babci, a nawet szefowej. Pozostając w temacie ślubów, niewątpliwie przyszła teściowa obdarowana tak eleganckim prezentem zareaguje na wieść o planowanych zaręczynach jeszcze bardziej entuzjastycznie!
Skrzynka z grawerem to idealny prezent dla każdego!
Jeśli zastanawiacie się, czy każdy może zostać obdarowany takim upominkiem, śpieszymy z odpowiedzią - oczywiście, że tak! Wyjątkowe produkty wysokiej jakości trafią w gusta nawet najbardziej wybrednego smakosza. Zielona skrzynka z grawerem lub  Męska skrzynka z grawerem to dwie propozycje dla tych, którym niełatwo sprawić prezent - dla mężczyzn!  Wybór musi być zgodny z jego preferencjami dotyczącymi ulubionego alkoholu, a pozostałe produkty również niewątpliwie zostaną docenione. Miłośnicy kawy również znajdą tutaj coś dla siebie - kawowy pejzaż z grawerem to uniwersalny upominek w drewnianym opakowaniu, który zaskoczy każdego kawosza wyjątkowym zestawem dobrych jakościowo produktów.