Eustoma to wyjątkowy kwiat, który charakteryzuje się nienaganną prezencją. Nie bez powodu wykorzystywany jest przez florystów do tworzenia niezwykłych bukietów. Powszechnie uznawany jest za roślinę bardzo delikatną i kruchą, jednak jest to bardzo mylące. Otóż wiązanki składające z eustom potrafią zachować świeżość w wazonie nawet przez 14 dni.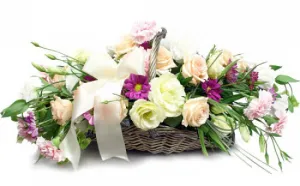 Rośliny te, zwane inaczej dzwonkami prerii, występują w wielu kolorach, najczęściej w białym, różowym, żółtym, fioletowymi a od niedawna także zielonym. Charakterystyczne kielichowate kwiaty nigdy nie rozchylają się całkowicie. Pąki eustom mogą przypominać tulipany, nieco bardziej otwarte podobne są do róż, a przekwitnięte często wyglądają, jak maki. Również liście tych roślin są niezwykle okazałe, gdyż ich seledynowo-srebrzysta barwa odbijająca się w świetle, dodaje im błękitny refleks.
Eustomy często uprawiane są w doniczkach - te pięknie ozdabiają mieszkania. Uwielbiają miejsca widne, z dużą ilością światła. Kwiaty te lubią również wilgotne podłoże, jednak nie wolno przesadzić z nadmierną ilością wody, gdyż może to być przyczyną ich uschnięcia. Zaleca się co roku, po przekwitnięciu, przesadzać roślinę do większej doniczki. Okazy hodowane w domach osiągają około 30 cm wysokości.
Dzwonki prerii idealnie sprawdzają się jako kwiaty cięte, ponieważ przez długi czas utrzymują się w wazonie. Wystarczy tylko przyciąć łodygę i usunąć liście występujące w dolnej partii rośliny. Należy także pamiętać o codziennym wymienianiu wody, która powinna być chłodna. Można również dodać do niej odżywkę, przedłużającą trwałość ciętych roślin. Staranne dbanie o te rośliny, pozwoli cieszyć się nimi przez wiele dni.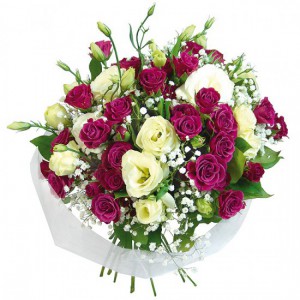 Kwiaty eustom nie dość, że widowiskowo się prezentują, to dodatkowo można je na wiele sposobów wykorzystać. Ich różnorodna kolorystyka i kształty powodują, że często wybierane są do bukietów ślubnych oraz butonierek.
Doskonale wyglądają również w towarzystwie innych kwiatów, szczególnie róż, goździków oraz frezji. Dzwonki prerii mogą też stanowić ozdobę stołu. Wystarczy włożyć kilka główek do szklanego, przezroczystego kieliszka - prosta a zarazem oryginalna dekoracja, niezwykle przyozdobi na przykład rodzinny obiad. Ze względu na delikatny wygląd, kwiaty te znajdują zastosowanie również w wiankach komunijnych.
Eustomy są idealne na każdą okazję. Kupując je, można mieć pewność, że stanowić będą niepowtarzalną i wyjątkową kompozycję. Zarówno same, jak i w otoczeniu innych kwiatów, będą się niezwykle prezentować. Wysłanie bukietu bliskiej osobie, złożonego z eustom, na pewno wywoła uśmiech na twarzy osoby obdarowanej.