Rodzeństwo to często źródło ogromnego szczęścia, wzajemnego wsparcia i oddania. Nierzadko zdarza się, że brat bądź siostra staje się najlepszym przyjacielem, któremu powierzamy wszelkie sekrety. Niezależnie jednak od stopnia relacji, warto pamiętać o Dniu Rodzeństwa 10 kwietnia, w którym możemy podziękować za obecność, wręczając miły upominek. Tylko jaki prezent dla brata lub siostry wybrać?
Prezent dla brata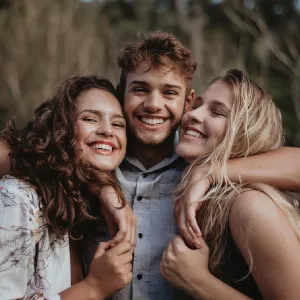 Wielu osobom może się wydawać, że znalezienie idealnego prezentu dla brata jest najtrudniejsze. Nic bardziej mylnego! Prezent dla brata musi być praktyczny i wyglądać estetycznie. Z okazji Dnia Rodzeństwa nie trzeba szukać wymyślnego, oryginalnego prezentu, za który trzeba sporo zapłacić. Dla dorosłego brata warto zdecydować się na Słodką skrzynkę, czyli estetyczną drewnianą skrzynkę, która w swojej zawartości posiada wysokiej jakości wino oraz trzy rodzaje ręcznie wykonanych czekolad Delimaro™. Jeżeli jednak chcemy odrobinę zaszaleć, warto przyjrzeć się niezwykłemu koszowi prezentowemu, który zawiera zestaw kawy, syropu, różnego rodzaju praliny i czekolady, a do tego wszystkiego ramkę na zdjęcie. To fantastyczna okazja, aby włożyć do niej wspólną fotografię z wakacji bądź dzieciństwa, tak aby pokazać na ile brat jest dla nas ważny i o nim myślimy. Jeżeli zastanawiasz się jaki prezent dla młodszego brata wybrać, warto zwrócić uwagę na kosz z żelkowym bukietem, ciastkami, landrynkami, jajkiem niespodzianką oraz przepięknym oraz przytulnym pluszakiem. Brat zdecydowanie doceni taki prezent i będzie bardzo wdzięczny zajadając się słodkościami.
Prezent dla siostry
Prezent dla siostry nie powinien sprawić problemu, jednak osoby, które nie są zdecydowane, powinny przemyśleć wybór pięknego bukietu świeżych kwiatów. Idealnym bukietem na tę okazję jest połączenie margaretek, goździków i róż. To niezwykle wiosenna kombinacja, która głośno mówi "dziękuję". Jeżeli jednak kwiaty, to nie wszystko co chcemy wręczyć, to wspaniałym rozwiązaniem będzie Koszyk Ruby w odcieniach różu. Znajduje się w nim mielona kawa, syrop, cukierki oraz pastelowo-różowa, ręcznie robiona czekolada. Całość wygląda bardzo elegancko i smacznie. Dla młodszej siostry także znajdzie się wspaniale dopasowany do jej wieku kosz prezentowy. Znaleźć w nim można wyjątkowe słodycze, które każda młoda dziewczynka doceni, a także miękkiego, uroczego różowego słonika. To wspaniały sposób, aby wręczyć siostrze przedmiot, który na zawsze będzie się kojarzył ze starszym rodzeństwem.
Warto dbać o te relacje, ponieważ siostra i brat to osoby, które są w naszym życiu przez bardzo długi czas, którym możemy powierzyć swoje sekrety, a także prosić o pomoc w ciężkich chwilach. Pielęgnowanie przyjaźni i wzajemnego szacunku to jeden z istotnych elementów, aby utrzymać dobry kontakt. Dzień Rodzeństwa to idealny moment, aby wyrazić wdzięczność lub wyciągnąć dłoń do skłóconych brata bądź siostry.