Wczesna wiosna to czas największej popularności hiacyntów. Ich duże kwiatostany i piękny zapach sprawiają, że trudno im się oprzeć, a fakt, że mogą być uprawiane zarówno w domu, jak i w ogrodzie, przekonuje wszystkich niezdecydowanych. Sprawdź, co trzeba zrobić, by cieszyć się bajecznymi kolorami tych kwiatów przez długi czas.
Romantyczna historia Hiacynta
Hiacynt to ozdobna roślina cebulowa, która kwitnie od marca do połowy maja,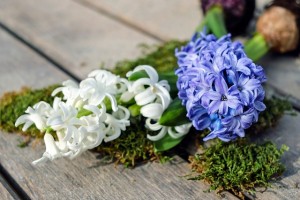 ale w domu może cieszyć oczy właściciela również zimą. Hiacynty występują w wielu kolorach, ale najczęściej można spotkać odmiany białe, różowe, fioletowe, żółte i pomarańczowe. Za nazwą kwiatów kryje się romantyczna, choć tragiczna historia. Legenda głosi, że nazwa kwiatów pochodzi od mitycznej postaci Hiacynta, który zginął w wyniku zazdrości dwóch greckich bogów – Apollina i Zefira. Pewnego dnia Zefir śmiertelnie zranił Hiacynta, a z krwi, która wypłynęła z głowy pięknego młodzieńca wyrósł niezwykły kwiat. Dzisiaj hiacynty mają wiele znaczeń, które w zależności od ich koloru mogą bardzo się różnić. Niemniej jednak, wiele mówią o uczuciach – podarowanie białych hiacyntów to znak sympatii, żółtych - szczęśliwej miłości, fioletowe hiacynty mogą zaś oznaczać przeprosiny.
Jak dbać o hiacynty?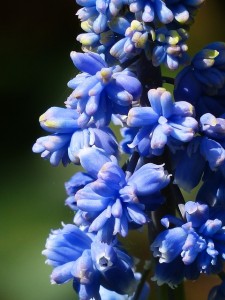 Pielęgnacja hiacynta nie jest skomplikowana, ale jeśli chcemy cieszyć się jego urodą przez długi czas, musimy pamiętać o kilku zasadach. Hiacynt doniczkowy najlepiej czuje się w temperaturze od 16 – 20 stopni C, nie lubi stać blisko kaloryfera i powinien unikać przeciągów. Gdy kwiat już zakwitnie najlepiej ustawić go w chłodnym miejscu, bo im niższa jest temperatura wokół, tym dłużej hiacynt doniczkowy kwitnie. Promienie słoneczne mu służą, najlepiej jednak, by nie stał w pełnym słońcu - najbardziej korzystne dla hiacyntów jest bowiem delikatnie rozproszone światło. Jeśli chodzi o nawadnianie, to hiacynty trzeba podlewać dość często, aby uniknąć wysuszania się ziemi w doniczce.
Gdy doniczkowy hiacynt przekwitnie, nie trzeba go wyrzucać. Przekwitnięty hiacynt (a raczej jego pęd i liście, bo kwiaty powinniśmy usunąć) należy umieścić w chłodnym miejscu, a na przełomie września i października można ponownie zasadzić jego cebulkę. Przy odpowiedniej pielęgnacji hiacynt może ozdabiać nasz balkon lub ogród jeszcze przez 3 do 4 lat.
Pielęgnacja hiacynta ciętego
Hiacynty doniczkowe to jednak nie jedyna opcja dla fanów tych aromatycznych kwiatów. W kwiaciarniach można też zakupić hiacynty cięte, które ułożone w wazonach mogą upiększać wnętrze naszego domu. Tak jak wiele wiosennych kwiatów, cięty hiacynt najlepiej będzie czuć się w zimnej wodzie, dobrze jest też umieścić go w chłodnym pomieszczeniu, bo tam najdłużej zachowa swój urok. Natomiast, aby zapobiec gniciu liści i przedłużyć żywot ciętych hiacyntów, powinno się codziennie zmieniać wodę w wazonie.
Oszałamiający wygląd i przyjemny zapach
Piękne kwiatostany hiacyntów złożone z niewielkich kwiatków i ich zachwycające kolory sprawiają, że rośliny te idealnie nadają się do ozdabiania wnętrz. W zależności od tego, czy chcemy stworzyć romantyczną aranżację czy dodać pomieszczeniu nieco radości oraz koloru, możemy wybrać pastelowe barwy albo zdecydowane fiolety czy czerwienie. Intensywna woń hiacyntów to dodatkowy atut dla tych, którzy chcą zadowolić nie tylko swoje oczy, ale i nos.