Niezliczona ilość gatunków kwiatów i ich różnorodna symbolika sprawiają, że bukiet jest doskonałym podarunkiem na każdą okazję. Kwiaty są uniwersalnym prezentem i zdaje się, że nie znają barier i granic.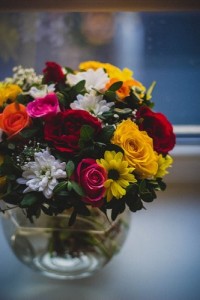 Czy na pewno? To przecież kobiety częściej otrzymują bukiety. Wręczają je mężczyźni i najczęściej wyrażają w ten sposób swoje uczucia. Kwiaty pojawiają się oczywiście przy różnych okazjach – w ramach podziękowania, przeprosin czy pożegnania. Zawężając temat jedynie do relacji damsko-męskich, łatwo zauważyć rażącą dysproporcję w ilości otrzymywanych kwiatów, a także całe morze stereotypów, które stoją za takim obrazem rzeczywistości.
Najwięcej wątpliwości budzą sytuacje, gdy kobieta wręcza kwiaty swojemu rówieśnikowi lub (przypadek jeszcze rzadziej obserwowany) mężczyzna daje bukiet mężczyźnie. Większość panów chce być postrzegana jako typ "macho", twardziela nieczułego na piękno przyrody – tak podpowiadają stereotypy płciowe. Jednak czy jest tak w rzeczywistości? Tak naprawdę mężczyźni również są wrażliwi na urok kwiatów. Niektórzy na pewno się ucieszą z takiego podarunku. Inni wręcz przeciwnie – mogą poczuć się urażeni.
Czy można więc wręczać kwiaty mężczyźnie? Zdania są podzielone. Każdy przypadek jest szczególny, dlatego najpierw warto wybadać, jakie podejście do otrzymywania kwiatów ma mężczyzna, któremu zamierza się podarować bukiet i zastanowić się, czy taki podarunek sprawi mu radość czy też go zawstydzi. Można też zrównoważyć prezent, dołączając do niego alkohol. Przede wszystkim jednak trzeba zaapelować do panów – więcej dystansu do siebie! :) Pozwólcie obdarować się kwiatami. To one wprawiają w dobry nastrój kobiety, więc dlaczego nie mielibyście w szczególnych przypadkach korzystać z tego przywileju?