Black-eyed Susan to potoczna amerykańska nazwa rośliny Rudbeckia Hirta. W Polsce znana jako Rudbekia owłosiona.  Należy ona do rodziny astrowatych i jest jednym z kilkudziesięciu gatunków rudbekii. Na nasz kontynent przywędrowała z terenów Ameryki Północnej, gdzie występuje dziko w środowisku prerii.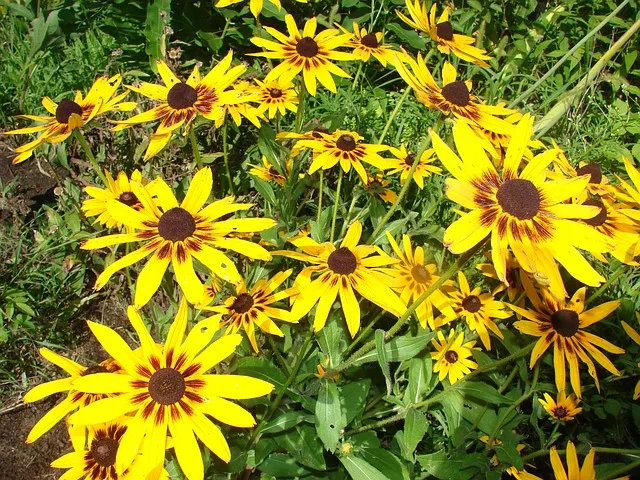 Kwiaty te idealnie nadają się do zasadzania nimi naszych ogrodów, między innymi ze względu na łatwość pielęgnacji. Charakteryzują się mrozoodpornością. Bardzo dobrze rozwijają się na wilgotnej glebie (lecz nie bagiennej), suchej, piaszczystej i na stanowiskach słonecznych bądź lekko zacienionych. Kwiaty te dobrze znoszą susze, upały i krótkookresowy brak wody. Rozsiewają się bardzo szybko. To istny ?terminator? wśród innych roślin jednorocznych, czasem zbyt natrętny w goszczeniu się w naszym ogródku, dlatego ?nadprogramowe? pędy powinniśmy pielić albo przesadzać w inne zaplanowane dla nich miejsce.
Grube i sztywne łodygi dorastają do 1 metra wysokości. Ich żółtawe główki możemy podziwiać na naszych rabatach od lata do października. Zasadzać rudbekię powinniśmy na początku wiosny, po ustąpieniu mrozów. Rudbekia bardzo dobrze się prezentuje nie tylko na rabatach lecz także jako kwiat cięty zdobiąc nasze wnętrza. Znakomicie podkreśla bukiety, dlatego często znajdą ją Państwo w kompozycjach kwiaciarni Poczta Kwiatowa. Czy w wazonie, czy zasadzona, zawsze pięknie rozświetla otoczenie.