Cynie nazywane także jakobinkami zwykle kojarzą się z kwiatami rosnącymi w przydomowych ogródkach. Swoim wyglądem przypominają popularne, zwłaszcza w okresie jesiennym astry przez co często nie bierze się ich pod uwagę przy komponowaniu bukietu. Niedocenianie tych kwiatów to duży błąd, ponieważ ogromne spectrum kolorów w jakich mogą występować otwiera bardzo wiele możliwości ich wykorzystania. Tej jesieni przyjrzyj się im bliżej, z pewnością nie będziesz żałować!
Piękne i różnorodne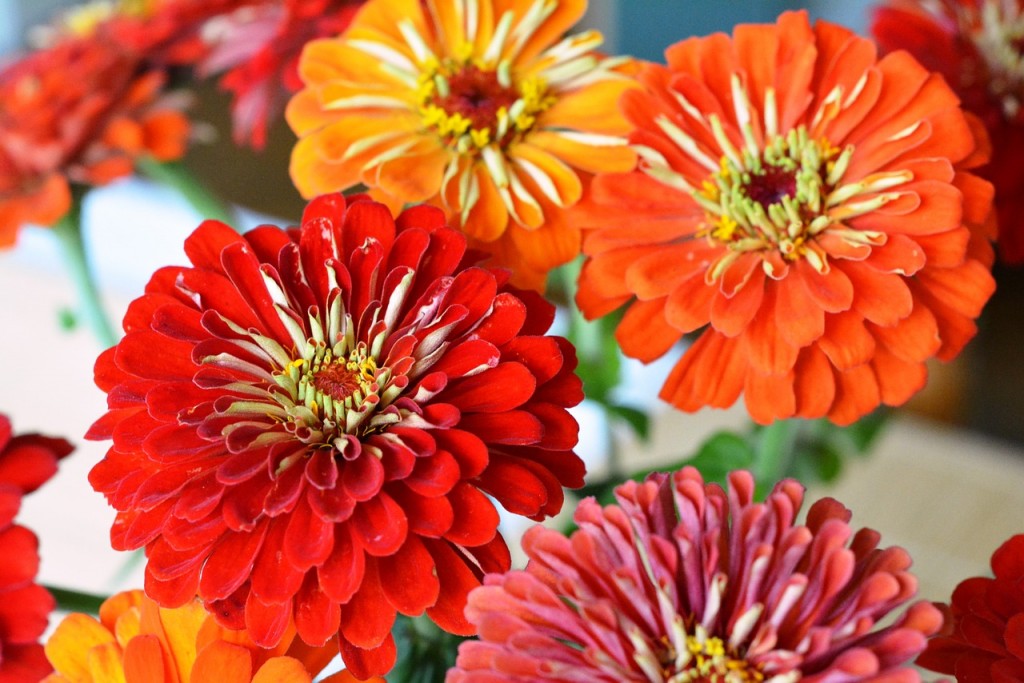 Kwiatostany roślin mogą bardzo się od siebie różnić w zależności od odmian, których jest przeszło dwadzieścia! Zwykle swoim wyglądem przypominają astry lub słoneczniki ozdobne, liście są podobne do tych tych jakie ma fiołek alpejski - sercowe i mięsiste. Płatki mogą być dłuższe, krótsze, bardziej lub mniej rozłożyste, a przy tym wielokolorowe, nakrapiane lub jednobarwne. Ponadto cynie występują we wszystkich odcieniach, oprócz niebieskiego, są zwykle żywe i przyciągające wzrok. Taki wygląd sprawia, że floryści sięgają po te kwiaty przy komponowaniu bukietów i dekoracji na wiele okazji. Sprzyja temu również dość długi okres kwitnienia, w zależności od gatunku, cynie pojawiają się nieprzerwanie od czerwca aż do końca listopada.
Wiele okazji jedne cynie
Zastosowanie ich w bukietach rozpoczyna się wraz z sezonem ślubnym, coraz więcej Panien Młodych decyduje się na odważniejsze oraz bardziej barwne kompozycje, cynie polecane są szczególnie do nieco szalonych, energetyzujących i nowoczesnych dekoracji. Okres przyjęć weselnych kończy się zwykle na przełomie września i października, nie oznacza to jednak, że zakłady florystyczne nie sięgają już po jakobinki. Oprócz oryginalnych bukietów prezentowych jakie da się z nich wyczarować, mogą stanowić także piękną ozdobę domu! Wystarczy jedynie zestawić je z odpowiednimi roślinami, aby uzyskać niepowtarzalny efekt w kolorach złotej, polskiej jesieni! Dobrymi komponentami będą tu fioletowe wrzosy, delikatne róże i okazałe słoneczniki. Do połączeń nieco bardziej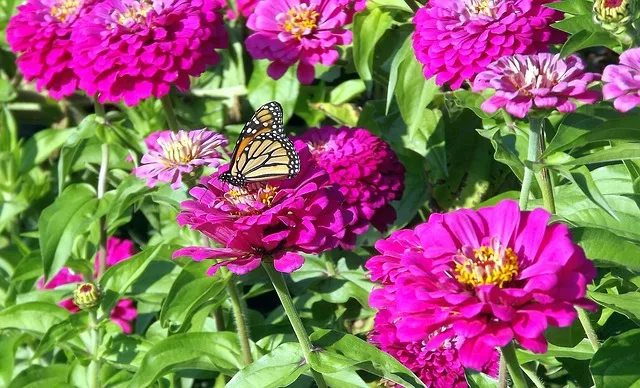 ekstrawaganckich można wybrać żółtą craspedię lub pełną chryzantemę. Cięte kwiaty to nie tylko bukiety, kiedy za oknem robi się zimno i ponuro, wprowadź do swojego wnętrza nieco koloru, aby je ożywić i nie popaść w jesienną chandrę. Ciekawym pomysłem są kwiatowe kosze, można je komponować zarówno z roślin ozdobnych, jak i owoców. Ustaw żywą dekorację wewnątrz domu lub przed jego wejściem, a skutecznie zmienisz ponurą, deszczową aurę. Opcji jest bardzo wiele, spiesz się bowiem kwiaty są dostępne tylko do końca listopada!
Cynie są często niedoceniane i niesłusznie pomijane przy komponowaniu okazjonalnych bukietów czy dekoracji. Teraz już wiesz, że mogą stanowić piękną ozdobę ślubu, element oryginalnych kwiatowych prezentów czy ożywiający wystrój wnętrza. Niezależnie od tego na jaką okazję wybierasz rośliny, pomyśl o cyniach, których wygląd może całkowicie zmienić lub ubogacić charakter Twojej kompozycji. Wybór kształtów i odcieni jest tak ogromny, że z pewnością każdy znajdzie coś dla siebie!