Hiacynty kwitną w najlepsze. W wielu domach są ozdobą parapetów, stołów i balkonów. Te piękne kwiaty mają teraz swoje pięć minut. Co jednak zrobić, kiedy hiacynt przekwitnie? Na pewno nie powinno się go spisywać na straty. Warto po przekwitnięciu odpowiednio zadbać o cebulkę, aby w kolejnym roku zakwitła równie pięknie.
Po przekwitnięciu hiacynta powinno zacząć się od wycięcia kwiatostanu. Najlepiej przyciąć łodygę dwa centymetry nad ziemią. Liście należy pozostawić i podlewać do czasu uschnięcia. Ciągłe podlewanie jest ważną kwestią, ponieważ właśnie wtedy cebulka zbiera substancje odżywcze na kolejny rok. Usychanie liści przechodzi przez dwie fazy, najpierw żółkną, dopiero potem usychają. Kiedy liście całkowicie zeschną można zająć się cebulką.
Cebulkę należy wyciągnąć z ziemi oczyścić i osuszyć. Następnie powinno się umieścić ją w pojemniku - może to być drewniana skrzyneczka bądź kartonowe pudełko. Cebulki należy ułożyć w małych odstępach od siebie, nie powinno się ich kłaść jednych na drugich. Aby jeszcze bardziej zabezpieczyć cebulkę można użyć środka grzybobójczego, który zapobiegnie powstawaniu grzybów i zniszczeniu bulwy. Pojemnik z tak przygotowaną cebulką należy postawić w chłodnym, przewiewnym i suchym miejscu. Najlepsza będzie piwnica lub chłodny korytarz.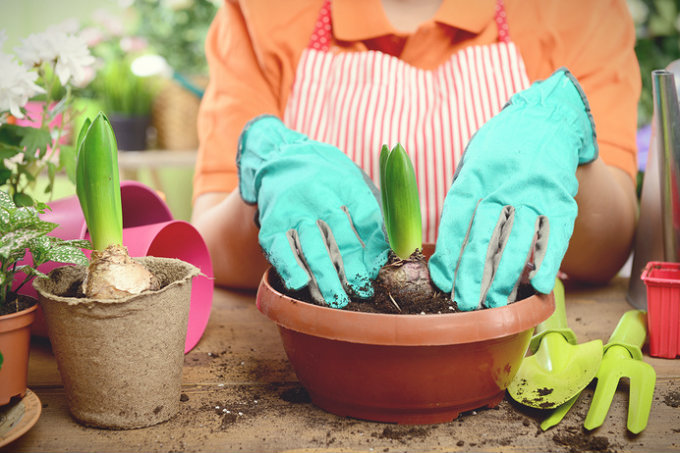 W takich warunkach hiacyntowa cebulka spędza czas aż do listopada, kiedy to ponownie trafi do ziemi w doniczce. W międzyczasie można kilka razy zajrzeć do pudełka i skontrolować wygląd cebulek. Sprawdzanie ich stanu pozwoli wykryć ewentualną nadpsutą cebulkę, która mogłaby zaszkodzić pozostałym.
Warto poświęcić trochę czasu na zadbanie o hiacynta po przekwitnięciu, ponieważ w kolejnym roku odwdzięczy się cudownym kwiatem. Te kilka prostych zasad sprawi, że hiacynt będzie mógł ponownie zawitać na kuchennym parapecie i cieszyć oko dobrego ogrodnika. Duma z samodzielnego wyhodowania roślinki jest niewspółmierna do zakupu hiacynta w sklepie. Wiedzą o tym wszyscy ci, którzy mieli przyjemność zadbać o cebulki od samego początku :)