Trudno wyobrazić sobie Święta Bożego Narodzenia bez choinki. Jedni z wygody wybierają wersję sztuczną, z kolei drudzy żywe drzewko kontynuując tradycję rodzinną. Żywa choinka nie będzie jednak cieszyć oczu przez długie tygodnie bez odpowiedniej pielęgnacji. Dziś podpowiemy, na co zwracać uwagę przy jej wyborze oraz jak się nią odpowiednio zaopiekować, gdy trafi pod Wasz dach.
Jak sprawdzić świeżość choinki?
Cięta czy w doniczce? Oto jest pytanie. W obu przypadkach warto zwrócić uwagę na kolor igieł (końce muszą być zielone, nie brązowe) oraz giętkość gałązek. Jeśli przy delikatnym zgięciu dochodzi do złamania, oznacza to nic innego jak tylko przesuszenie choinki. Wiele o jej świeżości zdradzi nam także intensywny zapach. Czy nie właśnie z tego powodu tak wiele osób decyduje się na zakup drzewka na święta? Szkoda byłoby trafić na taką, która już nie pachnie, a igły opadną jeszcze w czasie trwania świątecznych dni. Stąd też najlepiej decydować się na zakup choinki bezpośrednio w szkółce, gdzie dopiero na oczach klienta ścinana jest wybrana choinka.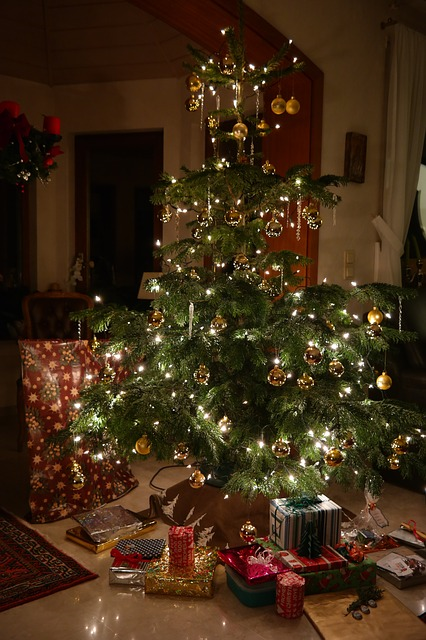 Pielęgnacja drzewka w domu
Bez względu na to czy będzie to świerk pospolity, srebrny świerk czy ciesząca się ogromnym zainteresowaniem jodła kaukaska, trzeba trzymać się pewnych zasad. Najważniejszą z nich, gdyż ma wpływ na dalsze losy drzewka, jest stopniowa aklimatyzacja w nowych warunkach. Choinka, która dotychczas przebywała na zewnątrz, gdzie temperatura powietrza była bliska zera na plusie lub na minusie nie może zostać bezpośrednio przeniesiona do mieszkania, w którym jest powyżej 20 stopni Celsjusza. Po zakupie trzeba przetrzymać ją chociaż jeden dzień w piwnicy, garażu lub na klatce schodowej, aby zaczęła się przyzwyczajać do wyższej temperatury, a dopiero wtedy wnieść ją do mieszkania. Co istotne w żadnym wypadku choinki nie można stawiać przy źródle ciepła, a więc przy kaloryferze czy kominku. W przeciwnym razie igły szybko opadną, a starania nad wydłużeniem trwałości choinki pójdą na marne.
Na tym nie koniec pielęgnacji – jeśli zdecydowaliście się na ciętą wersję, warto odciąć około 3 cm pieniek i włożyć ją do donicy z ciepłą wodą. Dzięki temu pory drzewka się otworzą i będzie lepiej nawodnione. Jeśli choinka jest ciężka i przechyla się w donicy, warto wypełnić ją piaskiem. Nie można zapominać też o regularnym podlewaniu – najlepiej co 2 dni oraz delikatnym spryskiwaniu gałązek.
Choinka dla całej rodziny
Podczas świątecznych przygotowań największą radość zarówno dorosłym, jak i dzieciom sprawia strojenie choinki. To właśnie ta czynność wprowadza w świąteczny nastrój całą rodzinę, wywołując na twarzach piękne uśmiechy. W trosce o żywe drzewko warto zaopatrzyć się w ledowe światełka, ponieważ dają mniej ciepła. A co do innych ozdób? Cokolwiek się na niej nie znajdzie: bombki, pierniczki, wysuszone pomarańcze czy własnoręcznie wykonane dekoracje z papieru i innych materiałów, z pewnością będzie wyjątkowa. ;)
I tego Wam życzymy, aby te Święta były wyjątkowe, rodzinne i pełne magii!