Alstromeria to przepiękny gatunek kwiata i choć nie jest on jeszcze bardzo popularny to cały czas zyskuje nowych miłośników, których grono rośnie w szybkim tempie. Alstromeria to kwiat o egzotycznej urodzie, który każdy bukiet uczyni pięknym oraz niepowtarzalnym. Co warto wiedzieć o jej nazwie, wyglądzie i pielęgnacji?
Alstromeria - historia nazwy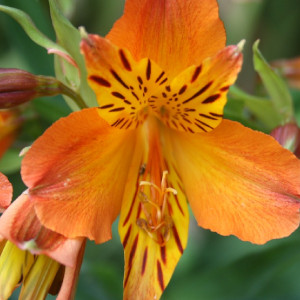 Alstromeria nazywana jest lilią Inków bądź peruwiańską lilią. Oryginalna nazwa pochodzi od Clasa Alstroemera, który był uczniem Karola Linneusza. Kwiat ten został sprowadzony do Hiszpanii w XVII wieku, jednak oryginalnym miejscem jego pochodzenia jest Afryka Południowa. Pewnie dlatego alstromeria ma tak niecodzienny, egzotyczny wygląd. Jest popularna w krajach,  w których panuje cieplejszy klimat, a w Polsce jej popularność stale wzrasta, ponieważ roślina znajduje miejsca w sercach wielu klientów kwiaciarni.
Alstromeria - wygląd i pielęgnacja
Alstromeria posiada nieprzeciętny, egzotyczny wdzięk, który zawdzięcza spiczastym płatkom o różnej długości oraz centkowanym u dołu płatkom w kolorze różowym, żółtym lub łososiowym. Kwiaty rozkwitają od czerwca do września, a mierzą między 30 cm a nawet metrem wysokości. Najlepszą temperaturą, w której może przebywać alstrometria jest 12 °C pod zadaszeniem lub 16 °C na zewnątrz. Ważne, aby dzięki regularnemu podlewaniu, gleba była zawsze dobrze nawilżona.
Alstromeria ozdobą bukietu
Dzięki nieprzeciętnemu wyglądowi alstromeria stanowi doskonałą ozdobę bukietu, który staje się egzotyczny i kolorowy. Takie kwiaty warto podarować osobie uwielbiającej nowinki, śledzącej bieżące trendy oraz mającej wyszukaną estetykę. Z pewnością będzie uradowana z takiego bukietu wręczonego z okazji urodzin bądź imienin.
Jak widać alstromeria to roślina o niepowtarzalnych walorach wizualnych, które sprawiają, że nie można od niej oderwać oczu. Jej pielęgnacja jest co prawda dosyć wymagająca, natomiast dużym plusem jest fakt, że kwiat cechuje duża odporność na szkodniki oraz choroby. Warto więc skusić się na bukiet z alstromerią i sprawić radość bliskiej osobie, a nawet miło ją zaskoczyć florystyczną innowacją.