Mogłoby się wydawać, że bukiet kwiatów to banalny prezent wręczany ukochanej, mamie czy solenizantom. Okazuje się, że poszczególne kolory kwiatów zawierają w sobie komunikat i niosą idee. Warto mieć świadomość, co dokładnie oznacza każdy z nich, aby podarować ważnej dla nas osobie wyjątkowy prezent, który ma ukryty przekaz.
Biały
Symbolizuje czystość, niewinność i lojalność. Wręczając taki bukiet, składamy hołd subtelności i wdziękowi odbiorcy. Warto zatem podarować go swojej pierwszej sympatii.
Różowy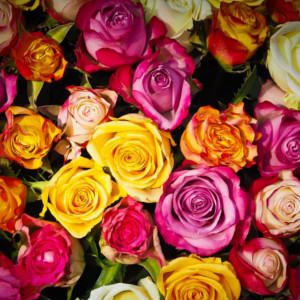 Oznacza szlachetność, podziw oraz wdzięczność. Odcienie jaśniejsze interpretowane są jako zachwyt urodą, która rozkwita, natomiast ciemniejsze – wyrażają podziękowanie. Wybór różowego bukietu jest dość uniwersalny i sprawdzi się w wielu sytuacjach.
Herbaciany
To metafora optymizmu. Herbaciany jest ogniwem pośrednim pomiędzy żółtym i czerwonym, symbolizującymi analogicznie przyjaźń i miłość. Bukietem w tym kolorze można zakomunikować drugiej osobie chęć zrobienia kolejnego kroku w relacji.
Czerwony
Taki bukiet wyraża wielką miłość, oddanie i uwielbienie. Nie bez powodu często wybiera się go na rocznicę ślubu czy zaręczyny.
Żółty
Symbolika koloru jest zawiła i intrygująca zarazem, ale oznacza szeroko rozumiane uczucia platoniczne. Żółty bukiet wręczamy w geście wdzięczności, gratulacji, a także by scementować przyjaźń.
Granatowy
Kolejny nietuzinkowy kolor. Symbolizuje samowystarczalność, siłę i władzę. Doskonale komponuje się z żółtym – zarówno pod względem estetycznym, jak i znaczeniowym. Granatowymi kwiatami warto obdarować kobietę biznesu, która ceni niezależność.
Zielony
Młodość, świeżość i naturalność. Oto cechy definiowane przez zieleń. Można pokusić się o piękny oraz ekstrawagancki bukiet dla kobiety podążającej za trendami lub urozmaicić bukiet o innym kolorze zielonymi kwiatami.
Kolory bukietów doskonale wyręczają słowa. Warto znać znaczenie kolorów, aby uczynić komuś miły, subtelny prezent, który nie jest jedynie formą, ale i niesie ze sobą treść. Odpowiednio dobrany bukiet wyrazi więcej niż słowo i gest.