Wielkimi krokami zbliżają się imieniny Anny, które przypadają na 26 lipca. Prawie każdy z nas zna jakąś Anię. Może jest nią babcia, mama, ciocia, przyjaciółka lub dziewczyna - jakiejkolwiek roli w naszym życiu by nie pełniła, zasługuje na kwiaty imieninowe. Jaki bukiet dać Annie na imieniny? Oto 3 ciekawe pomysły, a każdy z nich zachwyci solenizantkę.
Bukiet imieninowy dla dojrzałej Anny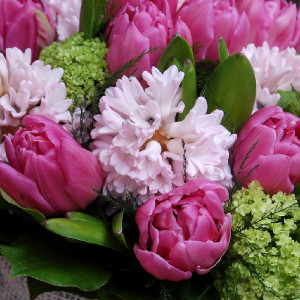 Dystyngowany, majestatyczny, szykowny - w tych trzech słowach zawiera się cała istota imieninowego bukietu dla dorosłej Anny, dojrzałej kobiety. Kim ona najczęściej jest? Babcią, mamą lub życzliwą ciocią. Kwiaty imieninowe, które otrzyma w dniu swojego święta, powinny harmonizować ze sobą kolorystycznie, roztaczać subtelną woń i wprawiać w najszczerszy zachwyt. Anna musi w nich dostrzec prawdziwe piękno, nieuchwytne w żadnym innym bukiecie. Wrażenie to zagwarantuje kompozycja lilii, santini, goździka, irysów, paproci szwedzkich oraz eustomy przewiązanych finezyjną wstążką. Dokładnie tak powinien wyglądać bukiet imieninowy dla dojrzałej Anny.
Kwiaty imieninowe jak z bajki
A jeśli nie Anna to młodsza siostra albo ukochana dziewczyna? Często nazywa się je wtedy "księżniczkami", a jak na księżniczki przystało, powinny otrzymać bukiety imieninowe rodem z bajki. Stworzy je kompozycja z następujących kwiatów: gerber, margaretek, róż czy białego bzu, a wszystko to utrzymane w odcieniach różu, fioletu oraz bieli - prawdziwie bajkowych kolorach. Ten imieninowy bukiet roztacza delikatny, słodki zapach, który jest niezwykle przyjemny i kojarzy się z latami młodości.
Bukiet imieninowy - wersja uniwersalna
Wiele osób zadaje sobie z pewnością pytanie czy istnieje imieninowy bukiet, który zachwyci absolutnie każdą Annę, niezależnie od jej wieku czy pasji? Jak najbardziej! To kwiaty imieninowe, które swoim wyglądem mówią: "Wszystkiego Najlepszego". Ten serdeczny komunikat przekazują róże, lilie, rattan oraz zieleń dekoracyjna - niezawodna kompozycja wywołująca uśmiech oraz rozpromienienie na twarzy każdej Anny. Dodatkowo można dołączyć bilecik z dedykacją albo słodki upominek, aby uprzyjemnić chwilę wytchnienia przy kawie lub herbacie.
Prawie każdy zna dziewczynę lub kobietę o imieniu Anna, której święto zbliża się wielkimi krokami. Warto pamiętać o niej w wyjątkowym dniu i sprezentować kwiaty imieninowe dostosowane do jej wieku, zainteresowań lub pokusić się o tradycyjny bukiet robiący wrażenie na każdej Ani, niezależnie od metryki w dowodzie.