23 czerwca to Dzień Ojca - ważne święto,  w którym wyrażamy wdzięczność za wychowanie, miłość oraz pomoc w codziennych sprawach. Tata jest ważną osobą w życiu każdego dziecka: uczy jeździć na rowerze, rozpieszcza i inicjuje szalone wyprawy. Pomaga poznawać otaczający świat oraz go objaśnia. Oprócz tego wyciąga pomocną dłoń w każdej sytuacji oraz wspiera podczas wkraczania w dorosłe życie oraz w trakcie jego trwania. Warto więc w Dzień Ojca docenić go szczególnie i oprócz życzeń wręczyć odpowiedni prezent. Jaka niespodzianka dla Taty sprawi mu radość? Z pewnością kwiaty! Poniżej znajdują się najciekawsze propozycje.
Bukiet kibica dla fana piłki nożnej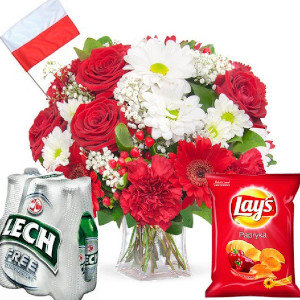 Podczas wybierania jakiegokolwiek prezentu przede wszystkim należy mieć na uwadze pasje i zainteresowania obdarowywanej osoby. Dzień Ojca nie stanowi tu wyjątku. Wielu mężczyzn z wielkim zaangażowaniem kibicuje reprezentacji piłki nożnej. Może i Twój Tata znajduje się w tym gronie? Jeśli tak jest, to z wielkim entuzjazmem przyjmie bukiet Dwunasty zawodnik. Składają się na niego biało-czerwone kwiaty, chipsy oraz zgrzewka bezalkoholowego piwa. Czego więcej może chcieć prawdziwy kibic? Chyba tylko goli do bramki przeciwnika.
Bukiet orzeźwiający
23 czerwca lato jest w rozkwicie. Bardzo często towarzyszą nam wtedy fale upałów, ponieważ słońce daje o sobie znać. Jeżeli Twój Tata to typ osoby pragmatycznej, to z pewnością usatysfakcjonuje go Bukiet orzeźwiający, na który składają się żółte róże i zgrzewka piwa. Tata na pewno doceni taki podarunek!
Kwiaty z energetyzującym dodatkiem
Planując prezent na Dzień Ojca, warto wziąć pod uwagę również tryb życia i rodzaj pracy, którą wykonuje Tato. Jeżeli zmusza go ona do bycia w trasie późną porą albo intensywnego wysiłku fizycznego lub intelektualnego, to dodatek do bukietu kwiatów w postaci napoju energetyzującego będzie strzałem w dziesiątkę. Taki prezent również ma wymiar praktyczny, a ponadto daje do zrozumienia, że szanujemy i dostrzegamy wysiłek wkładany w pracę.
Jak widać istnieje sporo ciekawych pomysłów na prezent z okazji Dnia Ojca. Ważne, aby wybrać odpowiedni dla swojego Taty, biorąc pod uwagę jego gust, zainteresowania, a także tryb życia i pracy.