Wybierając prezent dla kobiety, zazwyczaj pojawia Ci się w głowie wiele pomysłów, a kłopot zaczyna się, gdy trzeba wybrać prezent dla mężczyzny? Co kupić w takiej sytuacji? Rozwiązaniem może być męska biżuteria. Ten klasyczny pomysł sprawdzi się na wiele okazji!
Biżuteria męska – co spośród niej wybrać?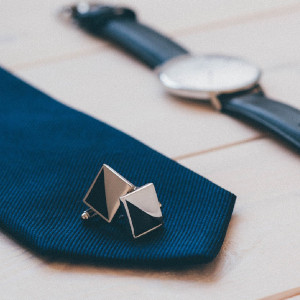 Dzisiejszy rynek oferuje szeroki wybór biżuterii męskiej, ponieważ mężczyźni coraz częściej się na nią decydują. Błyskotki przestały być domeną tylko kobiet – dziś nosi je już każdy. Jedną z nich mogą być spinki do mankietów. Jest to praktyczny prezent dla każdego mężczyzny, który przyda się na większe wyjścia oraz okazje. Z pewnością dodadzą szyku i elegancji, dzięki czemu stylizacja zyska w ogólnym odbiorze. Innym pomysłem może być spinka do krawata – dzięki niej krawat nie utonie na przykład w weselnym barszczu, a oprócz tego dodatkowy błysk udoskonali stylizację! Wymienione pomysły są eleganckimi prezentami, które dzięki swojej praktyczności są pożądane przez wielu mężczyzn – ale jak to z biżuterią bywa, lepsza jest jako upominek dla bliskiej osoby, niż jako zakup dla siebie.
Dlaczego warto kupić biżuterię na prezent dla mężczyzny?
Męska biżuteria to absolutny must have każdego mężczyzny – niezależnie od tego, jak często pojawia się na większych okazjach wymagających eleganckiego ubioru. Pięknie zdobi całą stylizację, jednocześnie będąc tylko subtelnym dodatkiem. Jest to prezent uniwersalny – nie pojawi się tutaj problem, jaki mógłby wystąpić przy wyborze pierścionka, którego rozmiar może nie pasować na palec danej osoby i konieczna będzie wymiana. Spinki do mankietów oraz krawatów są jednorozmiarowe, dlatego wystarczy wybrać jedynie odpowiedni design do gustu obdarowywanej osoby. Warto pamiętać także o tym, że to właśnie takie prezenty mają największe znaczenie nie ze względu na ich cenę, ale na sentyment. Ta wartość sprawia, że biżuteria jest bezcenna. Jeśli podarujesz spinki swojemu partnerowi, będzie mieć coś, co zawsze będzie mu o Tobie przypominać. Jednak na tym nie koniec – to upominek, którym możesz także obdarować Tatę lub Dziadka z okazji urodzin, imienin lub ich dedykowanego święta.
Jeśli nie masz pomysłu, co wybrać na prezent dla mężczyzny, spróbuj wykorzystać nasze porady i zdecyduj się na męską biżuterię. To ona urozmaici każdą stylizację i sprawi, że będzie elegancko ozdobiona, dzięki czemu zatrzyma na sobie oczy wszystkich.