Gardenia to rodzaj roślin należących do rodziny Rubiaceae (marzanowate), do którego zalicza się ok 140 gatunków. Są to rodowite kwiaty z obszarów tropikalnych, klimatu podzwrotnikowego, terenów Azji, Australii oraz Afryki. Słyną z hipnotyzującego, upojnego zapachu. Sprowadzone do Europy w XVIII wieku z Chin, gdzie znane były już co najmniej ponad tysiąca lat. Ten wiecznie zielony krzew potrafi osiągać 90 cm wysokości, a nawet więcej. Liście są błyszczące i ciemnozielone, a ich długość zależna jest od gatunku. Żółty i biały to kolory, w które gardenia przystraja swoje kwiaty ukazując nam je pojedynczo bądź w ozdobnej gromadzie.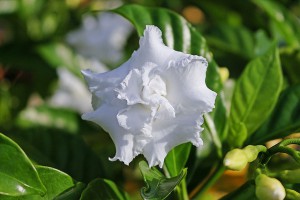 Roślina należy do tej samej rodziny co kawa, ale jej właściwości są nieco odmienne. Wykorzystywane w chińskiej medycynie naturalnej mają uspokajać wyciszać. Gatunek przez nas najbardziej znany, który zrobił największą karierę to gardenia jaśminowata (gardenia jasminoides) pochodząca z Azji.  W Chinach funkcjonuje pod nazwą Zhi zi natomiast w Japonii jako Kuchinasi. W obydwu krajach jej kwiaty służą do uzyskiwania barwnika wykorzystywanego z powodzeniem zarówno w procesie farbowania ubrań jak i jako dodatek do pożywienia.
Kilka dekad temu białe kwiaty gardenii były bardzo popularne wśród panów, wykorzystujących je jako bazę przystrajającej garnitur butonierki. Amerykańska śpiewaczka jazzowa nosząc gardenię wpiętą we włosy zrobiła z niej swój znak rozpoznawczy. Doceniana także i w naszych czasach jest często wykorzystywana jako roślinna ozdoba różnych uroczystości, a nade wszystko ślubów.