Każdemu z nas balony z pewnością kojarzą się ze słodkim dzieciństwem. Teraz, dzięki nietuzinkowym kształtom oraz wypełnieniu helem mogą stać się idealnym prezentem niosącym radość, który zaskoczy wszystkich!
Ciekawy pomysł na prezent
Kiedy szukamy odpowiedniego podarunku dla najbliższych, zależy nam na tym, aby był unikatowy i wywoływał ogromny uśmiech na twarzy ukochanej osoby. Wysyłka balonów, które wyskoczą z kartonu w momencie otwarcia, to niesamowity pomysł na niespodziewaną przesyłkę. Napełnione helem balony to nie tylko świetny prezent, ale także oryginalna dekoracja na imprezy: goście będą zachwyceni wymyślnymi kształtami oraz żywymi kolorami. Wysoka zawartość helu sprawia, że balony będą wisiały w powietrzu nawet dwa tygodnie, a sam gaz jest nietoksyczny oraz niewybuchowy, co tworzy tym samym bezpieczne widowisko dla najmłodszych. Tak jak kwiaty, balony można łączyć w kompozycje dopasowane do okazji, wybierać kolory w zależności od preferencji, a przede wszystkim - zaskoczyć obdarowanego unikalnością.
Komu możesz je podarować?
Balony z helem idealnie sprawdzą się jako prezenty dla dzieci, ponieważ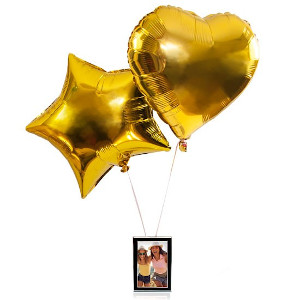 oferujemy wzory z postaciami z kreskówek. Istnieje także możliwość dołączenia do prezentu maskotki, która sprawi wiele radości maluchom. Zestaw dla chłopca lub dziewczynki na pewno spodoba się przyszłym rodzicom oraz wywoła u nich wzruszenie. Poza tym, każdy balon możemy spersonalizować dołączając zdjęcie w ramce, które będzie pięknym, rozczulającym dodatkiem. Balon kula dyskotekowa sprawdzi się na szalone urodziny, a Happy Beer-Day spodoba się wielu wielbicielom słynnego napoju. Drugą połówkę możemy zaskoczyć latającymi sercami: czerwonymi jako dowód naszej płomiennej miłości lub złotym, aby ukazać jak wartościowe jest dla nas uczucie partnera.
Jeżeli na każdej osiemnastce widzisz identyczne upominki, spraw, aby jubilat poczuł się wyjątkowo z urodzinowym balonem, do którego możesz dołączyć życzenia lub na przykład coś słodkiego - wszystko zależy od Ciebie. Takie balony mogą w ciągu dwudziestu czterech godzin znaleźć się w każdym miejscu w Polsce. Nie musisz wychodzić z domu, aby Twój prezent był ujmujący i wprowadzał w zachwyt!
Jest to nie tylko zabawna atrakcja dla dzieci - może okazać się poruszającym gestem, sposobem na okazanie miłości i czułości oraz wyrazem tęsknoty. Wprowadzą do serc naszych najbliższych wiele radości oraz zachwyt spowodowany oryginalnością podarunku.