Balkon w centrum miasta może przypominać piękny ogród, stając się miejscem codziennego relaksu. Jak osiągnąć taki efekt? Wystarczy odrobina wyobraźni, chęć do pracy i... kwiaty. Jakie zatem rośliny powinny znaleźć się w doniczkach? Oto 7 kwiatów, z którymi poradzi sobie nawet niedoświadczony ogrodnik.
Pelargonie to jedne z najczęściej spotykanych kwiatów, nie tylko na balkonach i tarasach, ale także w ogródkach. Nie mając doświadczenia w uprawie kwiatów - warto posadzić właśnie te rośliny, gdyż nie są one zbyt wymagające. Jedyne o czym trzeba pamiętać, jest to, by nie sadzić ich zbyt wcześnie - połowa maja, gdy nie będzie już przymrozków, to najbardziej odpowiedni czas. Kwiaty te bardzo lubią światło i mokrą powierzchnię - podczas upałów należy podlewać je nawet dwukrotnie, ale nie obficie - rano i wieczorem.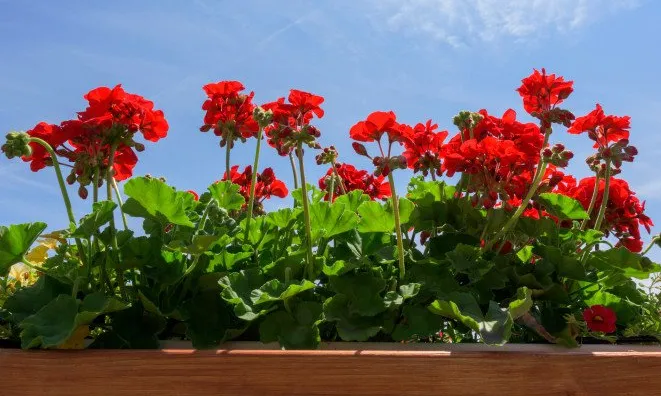 Drugim, często spotykanym kwiatem jest surfinia. Ma ona pachnące, zwisające kwiaty, a więc idealnie nadaje się do doniczki zawieszonej na suficie balkonu, by pęki kwiatów zwisały nad głową. Surfinie także nie są wymagające - lubią dużo słońca i wody. Warto je jednak postawić w takim miejscu, które uchroni je przed ulewnymi deszczami, gdyż te mogą zniszczyć ich delikatne kwiaty. W stałe miejsce najlepiej posadzić je w połowie maja, na specjalnym podłożu piaszczysto-gliniastym, które będzie odpowiednio żyzne i przepuszczalne.
Kolejnym rodzajem popularnych kwiatów balkonowych są bratki, a więc fiołki trójbarwne. Bratki można zasadzić znacznie wcześniej, bo już na początku wiosny, gdyż są odporne na spadki temperatury. Warto pamiętać, że są to rośliny dwuletnie, dlatego na obfite kwitnienie trzeba będzie poczekać do następnego roku. Niecierpliwym zaleca się kupienie gotowych już sadzonek, które będą zdobiły taras, balkon czy wejście do domu. Warto dodać, że lubią nasłonecznione stanowiska i regularne podlewanie.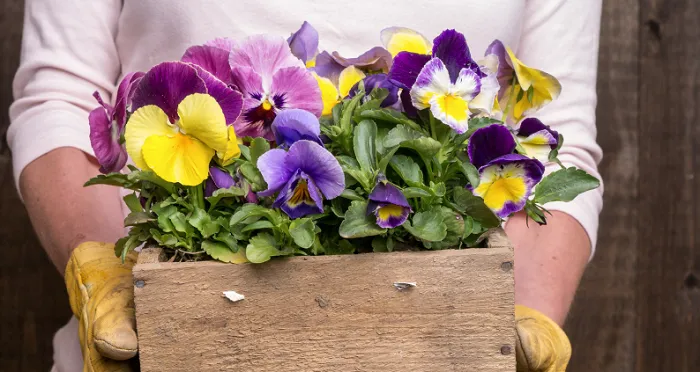 Jeżeli balkon nie jest za bardzo nasłoneczniony, idealnym rozwiązaniem będzie posadzenie begonii - kwiaty te rosną także w cieniu. Chcąc zasadzić je z bulw, do pracy należy zabrać się już w okolicach lutego i marca, by w maju, po ukazaniu się pierwszych listków, można je było przesadzić do doniczek. Podlewając begonie trzeba pamiętać, by lać wodę bezpośrednio do ziemi, unikając kontaktu z liśćmi i by robić to stosunkowo często i regularnie.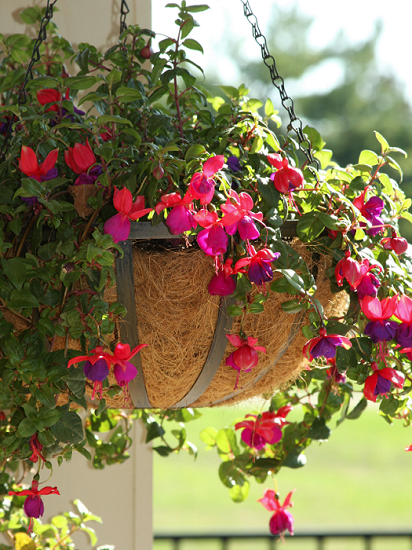 Fuksja jest kwiatem, który nie lubi bezpośrednich promieni słonecznych. Dlatego jest idealna na cieniste lub półcieniste loggie. Należy ją codzienne i obficie podlewać oraz nawozić od marca do września, raz w tygodniu. Ponieważ jest kwiatem wieloletnim, powinno się ją przesadzać do większej doniczki początkowo co roku, a w przypadku starszej rośliny co 2-3 lata.
Niecierpki to kolejne kwiaty rosnące w cieniu. W przypadku samodzielnej hodowli z nasion, trzeba je zasadzić już w marcu, a w maju sadzonki przenieść do docelowego miejsca. Kwiaty te lubią próchniczą ziemię oraz regularne podlewanie, ale nie powinno się ich przelewać.
Na balkonie nie może zabraknąć też aksamitek. To co je wyróżnia spośród innych roślin, to charakterystyczny zapach, który skutecznie odstrasza mszyce. Lubią słońce i regularne podlewanie, ale dość dobrze znoszą suszę.
To tylko przykładowe rośliny balkonowe, ale zdecydowanie najczęstsze, jakie spotyka się w balkonowych zakątkach. Dzięki wielobarwności kwiatów można stworzyć wyjątkowe miejsce odpoczynku. Kwiecisty balkon stanie się też obiektem zainteresowań oglądających go przechodniów z zachwytem. A to, chyba najlepsze wyróżnienie dla domowego projektanta zieleni na domowym balkonie.