Święto Halloween jest jednym z najpopularniejszych świąt w Ameryce, jednak z roku na rok zyskuje coraz większe zainteresowanie również w Polsce. W ostatnim tygodniu października obserwować można strojące się sklepy, restauracje i puby specjalnie na ten jeden dzień. 31 października każdemu kojarzy się ze strojami wampirów, zombie, zawieszonymi nietoperzami i wiedźmami, ale przede wszystkim - z DYNIAMI. Przedstawiamy 5 pomysłów, jak ją wykorzystać, aby stworzyć niepowtarzalny jesienny nastrój.
1. Wydrążona Dynia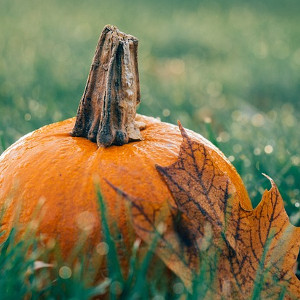 Wydrążona Dynia posiada swoją nazwę - Jack-o'-lantern, która pochodzi z legendy o chciwym Jacku. Młody mężczyzna wykorzystywał każdą okazję, aby się wzbogacić. Pewnego dnia spotkał Diabła, który zaproponował mu sprzedanie swojej duszy. Jack przechytrzył demona i go uwięził, niedługo po tym jednak zmarł. Przez swój materializm nie mógł trafić do nieba, a do piekła nie miał wstępu. Jak mówi legenda - nieprzerwanie krąży po ziemi z lampionem wydrążonym z dyni w ręku. Z czasem więc dynia stała się najbardziej rozpoznawalnym znakiem Halloween. W internecie znajduje się wiele poradników jak wydrążyć dynię, co jest idealną zabawą dla całej rodziny lub grupy przyjaciół. Ostatnio jednak gotowy lampion z dyni stał się modnym prezentem wysyłkowym dla najbliższych, wynika to głównie z zapracowania i życia w ciągłym pędzie, przez co brakuje nieraz czasu na wykonanie ozdób własnoręcznie. W takim przypadku idealnym rozwiązaniem będzie zamówienie sobie lub innym takiego prezentu.
2. Dynia jako wazon
Dynia niekoniecznie musi mieć zastosowanie upiornego lampionu. Roślina ta wygląda idealnie również jako… wazon. Kwiaty, które do niej wsadzimy to kwestia gustu. Głęboka pomarańcz dyni będzie idealnie komponować się z wysuszonymi różami, goździkami czy liśćmi drzew. W środku można umieścić także gotowe bukiety kwiatów w stonowanych odcieniach. Również położenie takiego wazonu jest dowolne, sprawdzi się on idealnie w kuchni, na parapecie, schodach czy na środku stołu w jadalni.
3. Dynia jako kosz na cukierki
Jeżeli macie w planach obdarowywanie dzieci cukierkami, które przyjdą z wesołym "cukierek albo psikus" warto wykorzystać dynię również w tym celu. Wystarczy wydrążyć dynię tak, by powstała z niej miska, dla bardziej ambitnych też mamy rozwiązanie - można wykorzystać gotową dynię z buźką i zakleić jej twarz czarną bibułą od wewnątrz, co nada jej trójwymiarowego efektu. Do środka klasycznie wkładamy cukierki w otwartym woreczku i pozwalamy częstować się dzieciom prosto z upiornej, dyniowej miski - zadowolenie gwarantowane!
4. Dynia pomalowana farbami
Pomalowana dynia zawsze będzie wyglądać perfekcyjnie, niezależnie od wystroju mieszkania. Dzięki farbom lateksowym lub akrylowym (do wyboru) możemy przemalować dynie o różnych kształtach i wielkościach na każdy kolor. Kto powiedział, że Halloween musi być jedynie czarno-pomarańczowe? Zachęcamy do wykorzystania pastelowych farb, szczególnie do tych jasnych, przestronnych pomieszczeń. Kto nie skusiłby się na różową dynię z wydrążonymi sercami zamiast oczu?
5. Świeczniki na stół z malutkich dyni
Dynia występuje w każdym możliwym rozmiarze, co daje nam nieograniczone możliwości do ich wykorzystania. Kiedy znajdziesz się w posiadaniu maleńkich dyń, wtedy też możesz pochwalić się kreatywnością. Wystarczy wydrążyć wnętrze takiej dyni na wysokość świeczki tealight. Po umieszczeniu świeczki w środku otrzymamy klimatyczne, maleńkie ozdoby na stół czy biurko. Teraz już tylko herbata i gotowe - jesienny nastrój gotowy.
Przedstawione pomysły na wykorzystanie dyni z pewnością nadadzą jesienny charakter naszemu miejscu zamieszkania. Dynia jako ozdobnik może być stosowana przez całą jesień, nie tylko na Halloween, a jej wnętrze idealnie nada się do ugotowania pysznej zupy krem dla całej rodziny lub na imprezę ze znajomymi. No to jak? Do dzieła!