Każda Panna Młoda marzy o niezwykłym bukiecie, który zachwyci gości i podkreśli piękno jej sukni ślubnej. Prezentujemy pięć pomysłów na wyjątkowy bukiet ślubny, a w tym sposoby na wykorzystanie w dniu ślubu cudownych, wiosennych kwiatów.
Wysmakowana lekkość, czyli modny bukiet Panny Młodej
W 2018 roku wśród pomysłów na wyjątkowy bukiet Panny Młode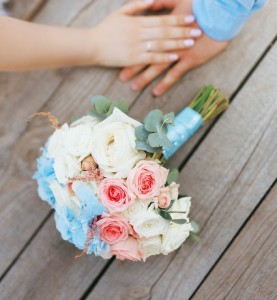 j nie może zabraknąć na pewno kompozycji, które przywołują skojarzenia z luksusem. Eleganckie bukiety utrzymane w bieli i pastelach będą w tym roku niezwykle modne – przepych jak najbardziej jest tu wskazany. Jak stworzyć elegancki bukiet ślubny? Warto postawić na klasyczne kwiaty takie jak róże, hortensje czy piwonie, a całość uzupełnić atłasową wstążką i innymi luksusowymi dodatkami.
Wiosenny bukiet ślubny - radosny miks kolorów
Ślub ma być najszczęśliwszym dniem w dotychczasowym życiu Panny Młodej i bukiet powinien oddawać jej radość. A jak lepiej wyrazić euforię niż kolorami? W bukiecie na wiosennym ślubie florysta może naprawdę zaszaleć, bo ta pora roku rozpieszcza nas kwiatami o żywych, mocnych kolorach. Żółcie, pomarańcze, czerwienie, fiolety, błękity – tworząc kompozycję na ślub nie trzeba wcale wybierać między nimi – ten radosny dzień może być uczczony prawdziwym miksem kolorów.
Urok delikatnych konwalii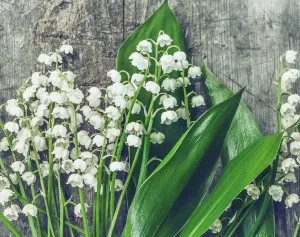 Opozycją do poprzedniej propozycji są spokojne, białe konwalie. Są to kwiaty nadzwyczajne, nie tylko ze względu na swoje delikatne piękno i czarujący zapach, ale i bardzo krótki okres kwitnienia. Na konwalie można sobie pozwolić jedynie w maju, więc te panie, które wychodzą za mąż w tym okresie, mają szansę na niepowtarzalny, prawdziwie wiosenny bukiet Panny Młodej. Finezyjna kompozycja z tych białych kwiatów świetnie będzie szczególnie pasowała do romantycznych sukni z koronką.
Nietypowy bukiet panny młodej – z nutką zieleni
Jednym z najnowszych trendów w bukietach Panien Młodych jest też zieleń – dzika, nieokiełznana, a zarazem dodająca kwiatom nutki finezji. Kobiety coraz częściej stawiają na bardziej naturalne bukiety i wplatają między inne kwiaty różne trawy, paprocie i zioła. Na scenę wkracza też niekiedy eukaliptus, który oprócz efektownego wyglądu niesie za sobą również piękny zapach. Bukiet Panny Młodej z takimi dodatkami świetnie wpisuje się w klimat rustykalny i boho, które w 2018 roku wciąż będą popularne.
Jak stworzyć oryginalny bukiet dla Panny Młodej?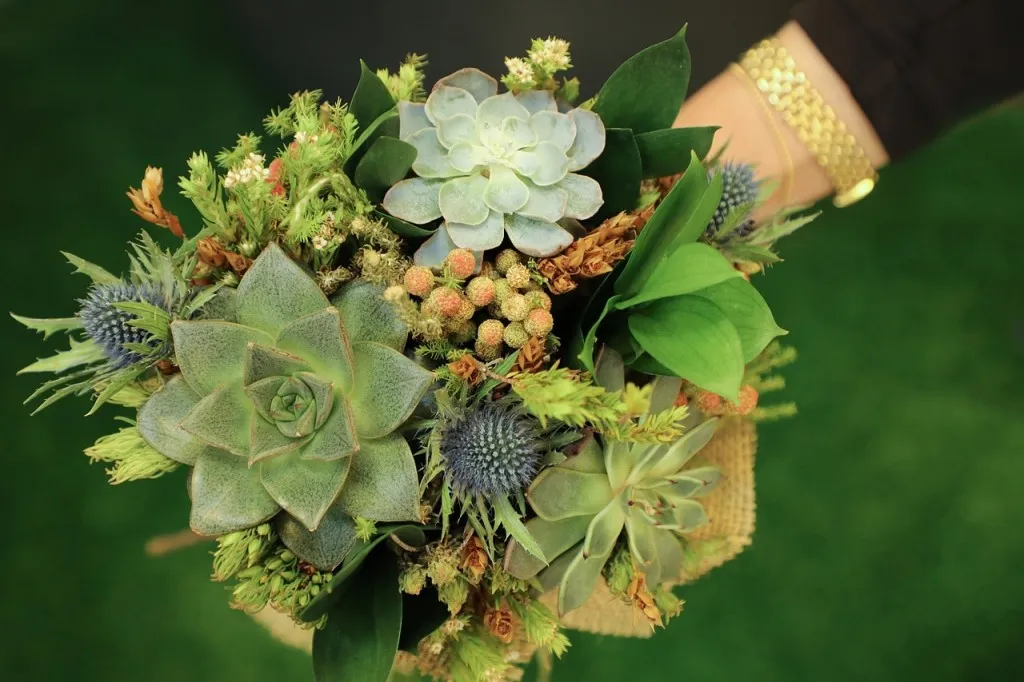 Każdy ślub musi być wyjątkowy, więc i kompozycja kwiatów nie może być tego dnia zwyczajna. Jednym z ciekawszych pomysłów na bukiet Panny Młodej jest wykorzystanie roślin, które rzadko się w takich konfiguracjach pojawiają. Kobiety na ślubnym kobiercu coraz częściej trzymają więc w ręku bukiety z sukulentów – czasem te niezwykłe rośliny grają pierwsze skrzypce, innym razem są jedynie wdzięcznym dodatkiem do reszty. Innym sposobem na stworzenie niebanalnego bukietu ślubnego jest wzbogacenie go o liście monstery.
Powyższe pomysły mogą być inspiracją do stworzenia wyjątkowego bukietu Panny Młodej. Najważniejsze, by dopasować kwiaty do koncepcji całego wesela oraz do upodobań przyszłej mężatki. Ostatecznie to do niej należy decyzja o tym, z jakim bukietem pójdzie do ślubu.