Wielu z nas nie wyobraża sobie życia bez kwiatów. Wręczamy je jako prezent podczas urodzin i jubileuszy, a za pomocą przepięknych, świeżych bukietów ozdabiamy domy. Już 27 kwietnia będziemy obchodzić Dzień Florysty, dlatego poniżej przedstawiamy 4 najważniejsze fakty o tym zawodzie.
Florysta, czyli mistrz układania kwiatów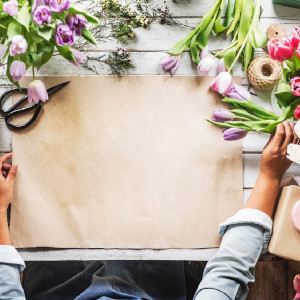 Floryści to osoby zajmujące się w swojej pracy tworzeniem różnego typu dekoracji roślinnych. Do wykonywania oryginalnych kompozycji wykorzystują nie tylko odpowiednio dobrane kwiaty,  lecz także zdobywaną przez lata wiedzę i nieprzeciętne zdolności manualne. Spośród długiej listy zadań zawodowych florystów warto wymienić wymyślanie oraz realizację projektów bukietów, ze szczególnym uwzględnieniem charakteru okazji, sezonu i warunków otoczenia, w których kwiaty mają być prezentowane. Poza tym, miłośnicy układania roślin przygotowują również wystawy oraz liczne konkursy.
Pasja połączona z praktyką
Choć najczęściej profesjonalni floryści są bardzo wszechstronni i potrafią tworzyć kwiatowe dekoracje na wiele odmiennych od siebie okazji, to warto wiedzieć o tym, że istnieją poszczególne specjalizacje w szerokiej dziedzinie układania roślin. Do najbardziej popularnych należą przede wszystkim: florystyka okolicznościowa, ślubna, żałobna oraz świąteczna. Przez cały rok floryści mają dzięki temu olbrzymie pole do popisu, mogą ćwiczyć swoje umiejętności oraz wyobraźnię.
Cechy perfekcyjnego florysty
Idealny florysta to bez wątpienia osoba wyróżniająca się ogromnym wyczuciem smaku i zmysłem estetycznym. W pracy przydaje mu się także spory zasób wiadomości dotyczących pielęgnacji roślin ciętych, doniczkowych, a co równie istotne zasad ich łączenia. Z całą pewnością utalentowany florysta wie również, w jaki sposób zestawiać ze sobą kolory roślin oraz tworzyć z nich przestrzenne, oryginalne bukiety. Poza tym, osoby zajmujące się zawodowo komponowaniem kwiatowych dekoracji, aby nie pozostawać w tyle muszą nieustannie się dokształcać i podążać za bieżącymi trendami.
Świętowanie Dnia Florysty
Podobnie jak inne zawody, od 2010 roku także floryści mogą obchodzić w Polsce swoje święto. 27 kwietnia cała branża florystyczna ma okazję szczególnie chwalić się swoimi osiągnięciami, talentami i wytworami niezwykle wdzięcznej, lecz wbrew pozorom bardzo wymagającej pracy. W tym dniu niejednokrotnie można usłyszeć, że kwiaty stanowią niewyczerpane źródło emocji, a dzięki florystom każdy zyskuje szansę podarowania drugiej osobie wyjątkowych prezentów.
Piękne i zachwycające bukiety to efekty pracy florystów, dla których układanie kwiatów jest prawdziwą, nieprzemijającą pasją. W ostatnich latach osób zajmujących się tworzeniem bukietów przybywa, a branża z roku na rok staje się coraz bardziej profesjonalna. 27 kwietnia warto pamiętać o wszystkich, zarówno doświadczonych, jak i początkujących florystach, jednocześnie życząc im mocy inspiracji do tworzenia niepowtarzalnych kompozycji z kwiatów.