Skrzynki prezentowe to upominek idealny na każdą okazję. Wśród nich można znaleźć propozycje ze starannie dobranym wnętrzem, które trafi w gusta nawet najbardziej wymagających adresatów. Dziś skupimy się jednak na tych modelach, w których pierwsze skrzypce gra alkohol wysokiej jakości.
Elegancka skrzynka prezentowa dla szefa
Prezent dla osoby znajdującej się na wyższym stanowisku zawsze powinien być dobrze przemyślany. W końcu to właśnie przełożonemu należy się największy szacunek. Zestaw en noir jest propozycją idealną. Pierwszym, co rzuca się w oczy jest w jego przypadku aromatyczna, potrójnie destylowana whisky Bushmills. Napój ten zachwyca waniliowym posmakiem oraz owocowo-migdałowymi akcentami, które doskonale łączą się z goryczką samego alkoholu. We wnętrzu skrzynki znajdują się również miody w czterech smakach będące idealnym dodatkiem do rozgrzewającej herbaty, którą często przygotowuje się w sezonie jesienno-zimowym. To jednak nie wszystko - w środku znajdują się także najwyższej jakości słodycze oraz likiery w niewielkich butelkach, dzięki którym można spróbować czegoś zupełnie nowego. Całość prezentuje się bardzo elegancko, a w dodatku dość minimalistycznie, dzięki czemu jest to idealny upominek dla szefa lub innego, wymagającego adresata.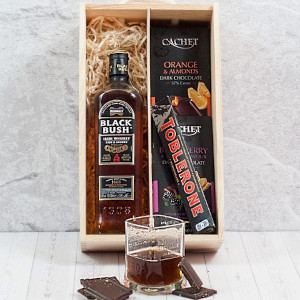 Słodko-gorzka propozycja dla miłośnika słodyczy i dobrego alkoholu
Zestaw słodko-gorzki to idealnie wyważone połączenie alkoholu z przepysznymi słodkościami. Pierwsze skrzypce gra tutaj irlandzka whiskey Black Bush o ugruntowanej pozycji na rynku, która od lat zachwyca miłośników tego typu trunków. Zdobyła serca konsumentów dzięki ciekawym aromatom toffi, wanilii, cynamonu i gałki muszkatołowej - takie zestawienie smaków jest idealne na sezon jesienno-zimowy. W skrzynce znajdują się również czekolady w dwóch różnych smakach oraz rozpływająca się w ustach, szwajcarska czekolada najwyższej jakości.
Luksusowa propozycja stworzona z myślą o koneserach
Każdy zna choć jedną osobę, którą bez obaw można nazwać koneserem. Co jej podarować? Odpowiedź jest tylko jedna: Złoto konesera! To bardzo elegancka propozycja, która z pewnością będzie dla adresata czymś zupełnie nowym. Swoją wyjątkowość zawdzięcza nietuzinkowemu likierowi z płatkami 23-karatowego złota oraz szwajcarskim słodyczom najwyższej jakości i złotym migdałom. Każdy element znajdujący się we wnętrzu skrzynki jest utrzymany w odcieniach złota, co potrafi zachwycić nawet największego miłośnika błyskotek.
Prezent dla mężczyzny? Nic prostszego!
Prezent dla mężczyzny potrafi przysporzyć wiele problemów - nigdy tak naprawdę nie wiadomo, czego w danym momencie potrzebuje. Uniwersalną propozycją jest w tym przypadku Męska skrzynka z wysokiej jakości wódką, idealną na wieczorne posiedzenia. We wnętrzu znajdują się również trufle o intensywnym smaku oraz wysokiej jakości kawa rozpuszczalna, której smakiem można zachwycać się zarówno w pracy, jak i w domu.
Skrzynki prezentowe z alkoholem to świetny pomysł na prezent dla każdego - sprawdzą się niezależnie od płci, zajmowanego stanowiska, czy też okazji, z powodu której są wręczane. Wystarczy znać preferencje adresata, a upominek z pewnością trafi w gusta. Wyjątkową cechą skrzynek jest nie tylko ich elegancja, ale również możliwość personalizacji. Jeśli chcesz, aby wybrany prezent był jeszcze bardziej wyjątkowy - zdecyduj się na grawer umieszczony na wieczku.