Postrzegana jako chwasty w niektórych częściach świata, ale sadzona jako wysoko cenione byliny w Europie, nawłoć istnieje w co najmniej 85 odmianach w Ameryce Północnej i tylko w trzech na naszym obszarze geograficznym.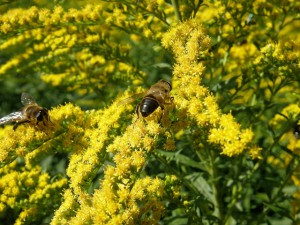 Jej urocze, żółte, puszyste kwiaty powiewają zgodnie z kierunkiem wrześniowego wiatru. Kiedy widzimy te wielkie przestrzeni zarośnięte przez nawłoć, wiemy, że nieodwołalnie idzie jesień. W pewnym momencie otacza nas ona z każdej strony. Widzimy ją i w wilgotnych lasach, i na polach, na poboczach dróg, w stosach kompostu, w sadach ...i to w dodatku na całym świecie.
Nawłoć późna (S. gigantea), o lancetowatych liściach, to wieloletnia roślina znana ze swoich właściwości leczniczych. Ta dzika, jadalna bylina reprodukuje się przez korzenie, cebulki, łodygi i nasiona. Wszystkie odmiany mają wiele właściwości odżywczych i oferują sporo korzyści zdrowotnych.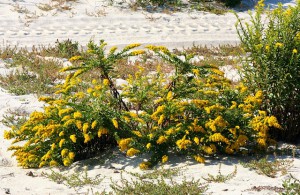 Nawłoć pijemy w postaci świeżej lub suszonej, w mieszance herbat ziołowych (choć jest dość gorzka). Do celów konsumpcyjnych możemy spożytkować wszystkie nadziemne części roślin. Kwiaty również są jadalne i można ich użyć także do sałatki. Liście mogą być gotowane jak szpinak lub dodawane do zup, gulaszu i zapiekanek. Można je blanszować i zamrażać w celu późniejszego wykorzystania podczas gotowania. Gwarantują niezapomniany posmak lata.