Nasturcja to jedna z najpiękniejszych roślin ogrodowych. Znana jest przede wszystkim jako roślina ozdobna, ale jest także wykorzystywana w kuchni i medycynie. Jej kwiaty są pachnące, zwykle w kolorze żółtym, pomarańczowym lub czerwonym. Jest to roślina, która nie tylko pięknie wygląda, ale także może być składnikiem potraw, gdyż jej kwiaty, liście, owoce są częściami jadalnymi.
Kwiat ten pochodzi z Ameryki Południowej, gdzie jest wieloletnią byliną. W klimacie europejskim to roślina jednoroczna. Do Europy sprowadzono ją około roku 1684. Nasturcja w całości nadaje się do wykorzystania w kuchni. Ma ostry, pieprzowy smak ? przypominający rzodkiewkę czy rzeżuchę ? i bardzo intensywny zapach. Surówki, sery czy jaja z dodatkiem jej kwiatów lub liści są pikantne i zarazem zyskują wyjątkowy wygląd. Owoce i listki nasturcji posłużyć mogą do ozdabiania potraw. Pasta do smarowania z nasturcją i twarogiem jest idealną propozycją na zdrowe śniadanie czy kolację.
W celach zdrowotnych poleca się także aromatyczną nalewkę z pączków nasturcji, która pomaga w stanach zapalnych układu moczowego - nerek i pęcherza. Aby ją przygotować wystarczy garść posiekanych liści i pączków kwiatowych nasturcji, które zalewa się alkoholem i odstawia na około 2 tygodnie.
Owoce nasturcji, gdy są zielone i jeszcze niedojrzałe ? można marynować. W ten sposób przygotowuje się ?polskie kapary?, które wspaniałym smakiem i wyglądem do złudzenia przypominają te prawdziwe. By je przyrządzić, należy zasolić nasiona i odstawić na 24 godziny, od czasu do czasu je mieszając. Następnie powinny zostać osuszone z wilgoci w ściereczce, po czym przełożone do słoiczków i zalane rozcieńczonym octem ? po około dwóch tygodniach należy zlać płyn i zalać świeżą marynatą. Zakręcone słoiki trzeba schować do lodówki. Będą gotowe po dwóch miesiącach od przygotowania. ?Polskie kapary? można z powodzeniem dodawać do tatara, sosów, sałatek jarzynowych czy mięs.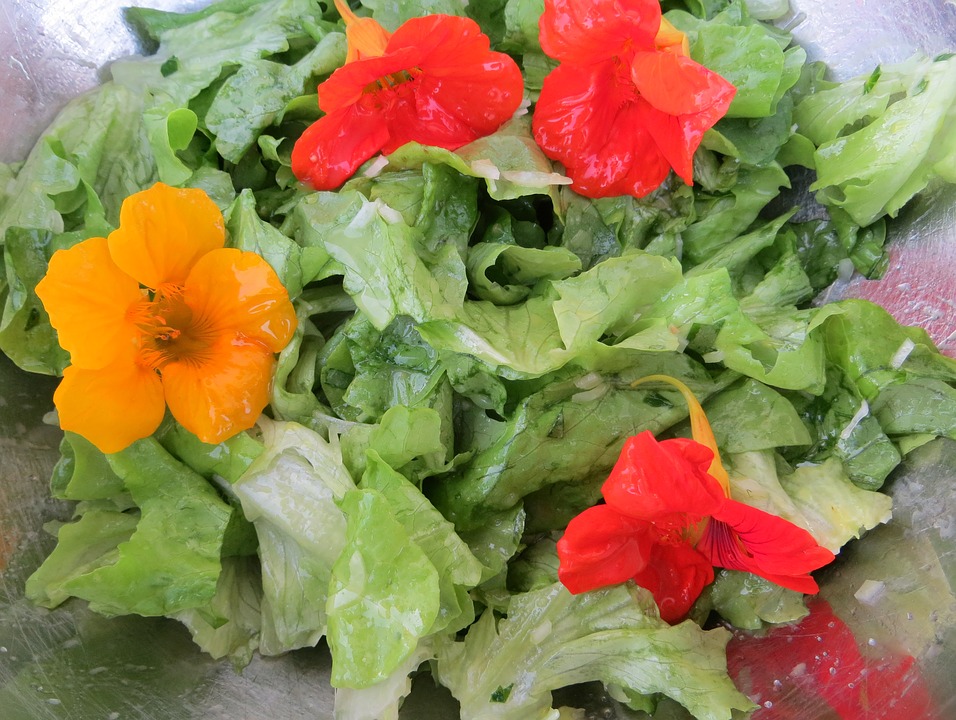 W kuchni wykorzystywane są również liście nasturcji. Mają wysoką wartość odżywczą, ponieważ zawierają błonnik oraz sole mineralne. Co więcej, nasturcja i olejki eteryczne w niej zawarte, mają działanie bakteriobójcze i dlatego roślina jest godna polecenia w leczeniu zakażeń dróg oddechowych. Roślina charakteryzuje się dużą zawartością witaminy C - zaleca się picie soku z nasturcji w celu wzmocnienia organizmu.
Zapewne trudno odnaleźć nasturcję na półce z przyprawami w sklepie. Jednak bez większego trudu można ją wyhodować, choćby na balkonie. Jest bowiem bardzo łatwa w uprawie. Nasiona nad wyraz szybko kiełkują ? należy jedynie dbać o to, by ziemia była nieustannie wilgotna. Wystarczy tylko kilka tygodni, aby nasturcja stała się okazałą rośliną.
Jak widać nasturcja poza walorami estetycznymi, posiada również ogromne wartości kulinarne, z których warto korzystać.