Pięknie się prezentują, dodatkowo występują w wielu kolorach, a ludzie tak często je wybierają i w ważnej chwili wręczają bliskim osobom. Mowa oczywiście o różach. Okazuje się, że swoje zastosowanie znalazły także w kuchennych przepisach.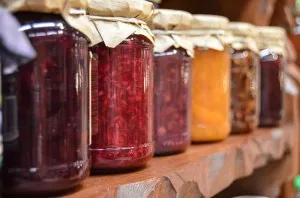 Z pewnością każdy kojarzy smak różanej konfitury, przygotowywanej przez babcie, często także wykorzystywanej jako nadzienie w pączkach. Sposób jej tworzenia jest bardzo prosty. Najpierw należy oczywiście zgromadzić płatki róży ? najlepiej jest zbierać je w okresie kwitnienia, szczególnie w suche dni. Najlepsze są kwiaty wyróżniające się intensywnym zapachem. Im więcej uda się ich zebrać, tym lepiej. Po zgromadzeniu odpowiedniej ilości różanych płatków, można przystąpić to przygotowywania dżemu. Przede wszystkim należy dokładnie oczyścić płatki ? na przykład poprzez zalanie ich gorącą wodą. Trzeba pamiętać także o obcięciu białej końcówki, gdyż jej obecność może powodować gorzki smak. W dalszej kolejności warto zważyć kwiaty i proporcjonalnie dodać do nich 2 razy większą wagowo ilość cukru (przykładowo na 100 g płatków przypada 200 g cukru). Kolejnym krokiem jest ucieranie powstałej mieszaniny przez około 15 minut ? aż do momentu rozpuszczenia cukru. Na samym końcu dodaje się sok z cytryny (na wymienioną wyżej porcję przypada 1 łyżka). Powstałą konfiturę zaleca się ponownie wymieszać z sokiem, włożyć do słoików. Pyszny dżem, przypominający zimą letnią pogodę, jest już gotowy.
Drugim przepisem, który warto znać, jest sok, który między innymi idealnie nadaje się do różnego rodzaju herbat. Mając już zebrane i oczyszczone płatki róż, należy je zważyć, gdyż zachowanie odpowiednich proporcji jest bardzo istotne. Na 500 g oczyszczonych płatków róż przypada 1 litr wody, 500 g cukru, najlepiej drobnego, oraz 1 cytryna z dodatkiem 1/4 łyżeczki kwasku cytrynowego. Kwiaty wraz z pokrojoną w grube plastry cytryną, należy umieścić w dużym słoiku i zalać przegotowaną wodą. Następnie zaleca się przykryć ten słój gazą i odstawić na czas 24 godzin. Po upłynięciu doby, wskazane jest przelanie powstałego płynu do garnka i precyzyjne wyciśnięcie soku z płatków. Połączenie mikstury z cytryną z dodatkiem kwasku i jej zagotowanie to kolejny krok. Końcowy etap przygotowywania napoju polega na podgrzewaniu receptury na małym ogniu przez 15 minut, a następnie przelaniu jej do butelek. Jeśli sok ma wystarczyć na dłużej, należy umieścić go w słoiczkach i pasteryzować.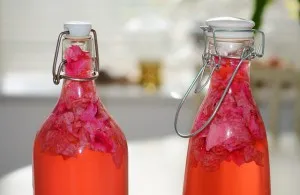 Z niewykorzystanych płatków róż można również przyrządzić cukier różany. Na szklankę kwiatów potrzebne są 2 szklanki cukru. Wszystko należy zmielić blenderem. Gotową mieszaninę zaleca się wysypać na papier do pieczenia i suszyć w temperaturze pokojowej (zwykle trawa to około 2 dni). Po wysuszeniu, zaleca się umieścić cukier w szczelnym słoiku. Dzięki niemu zmieni się oblicze przygotowywanych deserów, gdyż cukier różany perfekcyjnie nadaje się do różnego typu dekoracji, dodatkowo jego niezwykły różany aromat może stanowić dodatek do herbat.
Płatki róż to doskonałe źródło witaminy C, oprócz tego przetworzone pomagają w łagodzeniu napięcia i stresu. Nic zatem dziwnego, że płatki te są tak często wykorzystywane w kuchni, również przy przyrządzaniu wytrawnych dań (przepisy znajdziecie w artykule ?Poznaj smak róży?).
Dodanie soku lub cukru z płatków róży, na przykład do herbaty w środku zimy, z pewnością przywoła miłe, letnie wspomnienia. A wokół unosić się będzie intensywny i przyjemny różany zapach!