Chwile pełne szczęścia, miłości, wzruszeń... Te towarzyszą w życiu każdemu z osobna. Czasem ciężko jest dać wyraz uczuciom i okazać je jedynie słowami. Wtedy, warto poszukać dodatkowych sposobów, które będą w stanie w pełni oddać uczucie, jakim darzy się drugą osobę. Chcąc zaoferować Państwu coś więcej niż tylko kwiaty, bo także niespodziankę i wiążące się z nią emocje, z dumą informujemy o naszej zupełnie nowej ofercie, którą jest Poczta Kwiatowa exclusive.

Zaraz po kobietach kwiaty są najbardziej czarującym zjawiskiem, jakie Bóg dał światu.
~ Christian Dior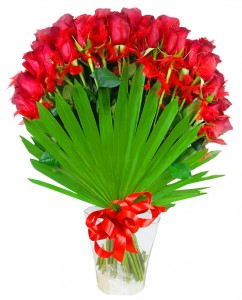 Największym szczęściem jest uśmiech kochanej i bliskiej osoby - jeszcze lepiej, gdy można dać powód do takiego uśmiechu szczęścia. Bez wątpienia otrzymanie bukietu kwiatów skomponowanych przez polskich mistrzów florystyki sprawi ogromną radość obdarowanej osobie, a nawet wywoła u niej łzy wzruszenia.
Bukiety i prezenty dostępne w naszej nowej ofercie ekskluzywnej, z którymi zapoznać się można odwiedzając tę stronę zobacz, pogrupowaliśmy na pięć kategorii. Są to Miłość, Styl, Ślub, Dekoracje i Prezenty. W każdej z nich znaleźć można florystyczne działa, które sprawdzą się na różnego rodzaju okazje, a zwłaszcza te najbardziej wyjątkowe, jak: wyznanie miłości, gratulacje osiągnięć, jubileusz czy uroczystość ślubna.
Jedno z najgorętszych uczuć - miłość można podkreślić wysyłając ukochanej bukiet czerwonych róż Szept Osjana, który wywoła uśmiech na jej twarzy, a dołączone wino musujące będzie okazją do celebrowania wspólnych momentów. Sto czerwonych róż ułożonych w kompozycję Kier podkreśli wzniosłość każdej wspaniałej chwili. Natomiast radosny bukiet różowych róż Tickled Pink doskonale pasuje do młodej dziewczyny lub przyjaciółki z którą ma się najlepsze wspomnienia.
Mistrzowie florystyki pomyśleli również o nietypowych kompozycjach kwiatowych, które dzięki oryginalnemu kształtowi, jaki zawdzięczają różnego rodzaju dodatkom sprawiają, że bukiety stają się tak wyjątkowe, jak relacje między ludźmi. Kompozycje Pawie oko czy Ogród Hesperyd zapierają dech w piersiach!

Z myślą o tych, którzy swą miłość przypieczętowują w dniu ślubu przygotowano Perłowy welon, składający się z pięćdziesięciu białych róż symbolizujących czystość i szczere intencje, które niewątpliwie w tym szczególnym dniu dla Państwa Młodych są wiodące. Aby ich życie było usłane różami i liliami podaruj Młodej Parze polecamy podarować Liliową dedykację, żeby nawet po uroczystości pozostali w bajkowym świecie. Tort Biedermeier to wspaniała niespodzianka dla Nowożeńców - ten pomysłowy podarunek będzie również wspaniałą ozdobą weselnego stołu.
Także w podkategorii Dekoracje przygotowaliśmy niepowtarzalne bukiety, będące eleganckimi dekoracjami. Akt z róż, Aranżacja prowansalska czy Schody do nieba z pewnością nacieszą wzrok podczas różnego typu festiwali, gal czy też bankietów.
Komponując ekskluzywną ofertę nie mogliśmy zapomnieć o kolekcjonerach trunków. Smakosze, którzy lubią uraczyć swoje podniebienie wyjątkowym alkoholem z pewnością ucieszą się z podarunków takich jak butelka ekskluzywnego szampana Dom Pérignon, przy lampce którego można wznieść toast za to, co najważniejsze. Koneserom płynnych słodkości i pięknej formy przypadnie do gustu Orzechowa Nalewka w ręcznie wykonanej, kryształowej karafce.
Wyjątkowe okazje wymagają wyjątkowej oprawy. Jesteśmy przekonani, że oferta Poczta Kwiatowa? exclusive spełni Państwa wymagania.