Rok 2015 jest dla nas bardzo ważny, bowiem to właśnie w tym roku mija 15 lat naszej działalności. To już też 15 lat, kiedy Poczta Kwiatowa? łączy ludzi w stylowy, życzliwy i barwy sposób ? poprzez dostarczane kwiatów.
Ten jubileusz stał się dla nas inspiracją, dlatego też wraz z najlepszymi florystami z Polski, przygotowaliśmy zupełnie Nową Kolekcję bukietów, by za ich pomocą dać wyraz uczuciom, które czasami trudno nazwać lub warto je wyrazić w nietypowy sposób.
Kwiaty od zawsze były najlepszym sposobem na wyrażenie najpiękniejszych uczuć, powiedzenia kocham, dziękuję, przepraszam, dobrze, że jesteś. Chwile, którym towarzyszą są zazwyczaj niezwykle emocjonalne. Potrafią w mgnieniu oka wywołać uśmiech na twarzy obdarowanej osoby, zwłaszcza, gdy zupełnie się tego nie spodziewa. Nowa Kolekcja na 2015 rok, powstała przede wszystkim z myślą o Waszych oczekiwaniach i pragnieniach.
W przygotowania 15 zupełnie nowych, wyjątkowych bukietów włożyliśmy serce i dużo pozytywnej energii. Mamy nadzieję, że bukiety z Nowej Kolekcji pozwolą Wam być jeszcze bliżej osoby, którą cenicie i kochacie.
Nowe bukiety wyróżniają się ciepłymi barwami. Kolor kwiatów, jakimi obdarowuje są najbliższych nie pozostaje bez znaczenia. Bukiety Romantyczny wieczór czy Rubinowy, przygotowane z klasycznych i eleganckich czerwonych róż to doskonały sposób na wyrażenie miłości. Kwiaty te i ich barwa są przecież symbolem szczerego i gorącego uczucia, ale też namiętności. Kolor czerwieni odnajdziecie również w bukietach Tango, Wspaniałe chwile, Charme, Prima Victoria czy Odważny gest.
Bukietami zachowanymi w delikatnej tonacji, a zarazem wyróżniającymi się spośród innych z Nowej Kolekcji są Bukiet Rumieniec oraz Kwiaty powabne. Ich piękne, stonowane kolory jasnego różu i bieli, są symbolem szczerego, czystego i niewinnego uczucia, słodkich myśli kierowanych na obdarowaną osobę. To nietuzinkowy sposób na wyrażenie wyjątkowych uczuć.
Kwiaty bajkowe swoim urokiem i bajeczną promiennością stanowią gwarancję wywołania uśmiechu. Bukiet bogaty w gerbery, róże, biały bez, eustomy i margaretki doskonale odda moc przyjaźni jaką darzy się drugą osobę - podobnie jak Bukiet impresja złożony z białych róż, margaretek, eustom, limonium i agapantu, którego pastelowa biało-różowo-fioletowa kompozycja jest wyjątkowo delikatna.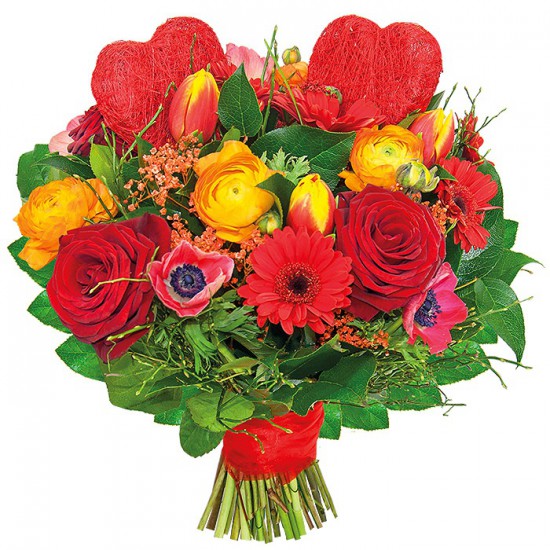 W Nowej Kolekcji nie mogło zabraknąć ciepłego połączenia czerwieni z kolorem żółtym. Ta ostatnia barwa sama w sobie jest symbolem zazdrości, jednak w połączeniu z czerwienią, negatywne znaczenie tej barwy zanika, stając się cudownym ożywieniem dla bukietu. Bukiet magiczny czas, Bukiet malowany, Just for czy Like it swoimi barwami i okazałością wprowadzą jasny promień w życie obdarowanego, a zapach róż, goździków i margaretek swoim zapachem skutecznie przywoływać będzie miłe wspomnienia.
Okazji do obdarowania najbliższych osób jest naprawdę wiele, jednak równie ważne i przyjemne jest sprawianie im radości na co dzień. Nasze bukiety zostały skomponowane z myślą o cudownych emocjach towarzyszących w Waszym życiu. Mamy nadzieje, że nowe kompozycje florystyczne wypełnią je barwami i delikatnością.